WEARINGIRISH showcases top designers/brands from Ireland. In this series, meet the designers and hear their stories. Here Margaret chats with Niall Tyrrell.
Visit nialltyrrell.com for more!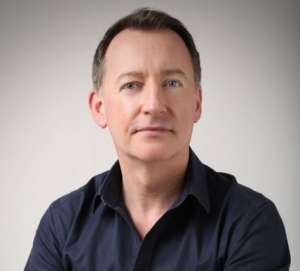 TELL US ABOUT YOUR BACKGROUND.
I am a native of County Galway. After completing a degree course in fashion design at the National College of Art and Design in Dublin, I worked for several years in couture houses in London and Paris. In the late 1990s, I returned to Dublin to set up a collaborative label called Tyrrell & Brennan. The label changed direction in 2013 when Donald retired, and I have continued the brand under my own name since then.
WHAT'S YOUR AMBITION FOR YOUR BRAND?
To expand my ready-to-wear line, introduce complimentary accessories, and to continue to empower women who wear my pieces.
WHAT WAS THE MOST DEFINING MOMENT OF YOUR CAREER?
There have been several defining career moments that created brand awareness, notably being commissioned to design three gowns for Enya to wear on the Oscars red carpet–a first for an Irish label. Other highlights include being asked to dress former President McAleese when she met Queen Elizabeth and former US President Obama on their historic visits to Ireland.
HOW WOULD YOU DEFINE THE HEART AND SOUL OF YOUR BRAND?
Every season, I do a small ready-to-wear range to hang alongside my bespoke collection. To have something bespoke, using top quality fabrics is a luxury, but the level of satisfaction in seeing the wearer feeling empowered by a garment created for them is genuinely wonderful. I intend to design pieces that transcend seasons. There is an element of sustainability since a well-cut garment with traditional couture techniques can last for years—If not decades.
YOUR DREAM MUSE?
Right now, my dream muse would have to be the actress Claire Foy as she embodies a contemporary yet refined, modern, timeless elegance. I would love to have the opportunity to design for her someday.
YOUR DREAM COLLABORATION?
Every time I dress a potential new client, it becomes a dream collaboration. As they live through their clothes, it continually inspires and challenges me.
WHAT INSPIRES YOU ABOUT THE WEARINGIRISH MOVEMENT?
The wearing Irish movement has literally created a fantastic awareness of the many wonderful and talented designers who work in and out of Ireland, highlighting the immense talent, craftsmanship, and diversity of Irish design…that's inspiring!
TAKE US THROUGH YOUR CREATIVE PROCESS.
For me, it begins with the fabric. I source my fabrics from international trade fairs as well as indigenous Irish producers. One season always inspires the progression of the next. My environment constantly inspires me; I am like a sponge. I always sketch and find that inspiration can strike at any time. After I sketch and decide the direction I am taking for the collection, I then proceed to make and cut the pattern and create the toiles before I hand over the design to be produced into a finished garment.
HOW DOES A SENSE OF PLACE INFORM YOUR CREATIVE PROCESS – SPECIFICALLY IRELAND?
My entire business is based in Ireland. I am very proud of the fact that I create and make all of our collections in Ireland. I adore the Irish countryside, and I am a great lover of nature and its changing seasons. I am a romantic at heart, and I find that Ireland and its wonderfully diverse countryside is a very romantic place. It is no coincidence that there is a very romantic timeless quality to my work, as a result of this inspiration and heritage.
WHAT DOES BEING IRISH MEAN TO YOU, AND IN WHAT WAY HAS IT INFLUENCED YOUR CREATIONS?
The rich cultural and often, romantic cultural heritage has had an undoubtedly massive influence on my design aesthetic.
MOST COVETED ITEM IN YOUR COLLECTION?
An all-in-one tailored jacket with a pleated flared skirt detail inspired by a classic dressage jacket.
THREE THINGS YOU CAN'T LIVE WITHOUT?
My partner Oliver
My sketchbook
My diary
YOUR GO-TO STYLING TRICK?
Keep it simple but always with a twist.
TELL US ONE THING ABOUT YOURSELF THAT PEOPLE SHOULD KNOW THAT I DIDN'T ASK.
I am a part-time sheep farmer and love to escape back to the Galway farm to check in on the flock at every opportunity my work allows.