WEARINGIRISH NYC 2018 showcases ten top designers from Ireland. In this series, meet the makers and hear their stories. Here Margaret chats with Jennifer Rothwell, Creative Director, Jennifer Rothwell.
Visit jenniferrothwell.com for more!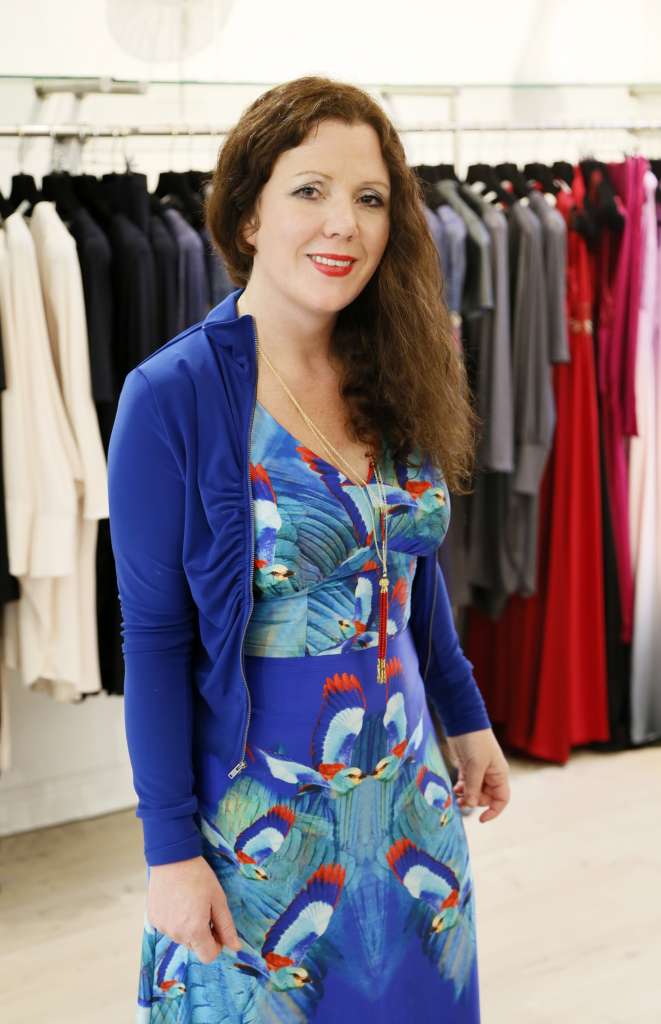 TELL US ABOUT YOUR BACKGROUND.
I was born in New York but raised in Dublin. After graduating from the National College of Art and Design in Dublin, I went back to New York to gain invaluable industry experience and worked for many high-profile companies such as Norma Kamali and Calvin Klein. In 2006, I returned to Ireland and launched my label, Jennifer Rothwell.
WHAT WAS THE MOST DEFINING MOMENT OF YOUR CAREER?
When the National Museum of Ireland purchased three of my prints for their Contemporary Collections in 2016.
WHAT'S YOUR AMBITION FOR JENNIFER ROTHWELL?
My ambition is to take my brand global and reignite the Celtic revival while also introducing a new generation to Ireland's rich culture and heritage through my contemporary designs. My hope is that helps to create employment in the Irish design sector and also reignites fashion manufacturing in Ireland.
DO YOU HAVE A MENTOR IN BUSINESS?
I am a mentor for the Design and Craft Council of Ireland and enjoy sharing my knowledge with new businesses and up-and-coming designers. However, I also seek out mentoring myself when needed, specifically in areas such as Search Engine Optimization (SEO's), social media and market strategies.
WHAT SETS YOUR DESIGNS APART?
I create beautiful wearable digital printed works of art that are striking, colorful and meant to uplift one's spirit. I am inspired by Irish heritage and culture and introduce these elements into my contemporary designs. I am very passionate about my Irish heritage and passionate about manufacturing in Ireland.
WHO IS YOUR DREAM MUSE, AND WHY?
My dream muse is Florence Welch.  I love her music and style and would absolutely love her to wear Jennifer Rothwell, specifically the Madeline print, inspired by fellow artist and muse, Harry Clarke.
WHAT INSPIRES YOU ABOUT THE WEARINGIRISH MOVEMENT?
I love that the WearingIrish movement is highlighting the great talent we have in Ireland while also showcasing Irish design on the global stage!
WHO DO YOU WANT TO WEAR IRISH?
Everyone!  In particular, I'd like my fellow designers, artists and the wider global community to wear Irish.
WHAT DOES NEW YORK MEAN TO YOU?
New York City has a very special place in my heart.  It's the city of my birth and the place I took my first breath of life!
TAKE US THROUGH YOUR CREATIVE PROCESS.
I am inspired by my Irish heritage, it's culture and folklore, nature and different places and cultures around the world. I generally start my design process with a concept or idea and then work on the process of designing the print.  After the print has been designed, I drape the fabric on my tailoring mannequin's different shapes and silhouettes. I design on the form.
WHAT DOES BEING IRISH MEAN TO YOU AND IN WHAT WAY HAS IT INFLUENCED YOUR CREATIONS?
The fact that I was born in America, raised in Ireland, and then returned back to live in the USA for awhile gives me a greater appreciation of my Irish heritage and culture. That is why I am so passionate about reigniting the Celtic revival and introducing a new generation to amazing Irish artists such as Harry Clarke as well as the intricate illustrations of the Book of Kells.
WHAT'S THE MOST COVETED ITEM IN YOUR COLLECTION?
It's actually my very first print, and now my signature, the "hummingbird print" for dresses, accessories and the coveted pocket squared for men.
THREE THINGS YOU CAN'T LIVE WITHOUT?
First and foremost it's my family, being creative, and my retreat in Wexford, Ireland.
YOUR GO-TO STYLING TRICK?
For women, throw on a colorful and striking Jennifer Rothwell scarf to brighten up any outfit and uplift your spirits.  For men, pop on a colorful bow tie or pocket square, to look instantly stylish and stand out in the crowd.
TELL US ONE THING ABOUT YOURSELF THAT PEOPLE SHOULD DO THAT WE DIDN'T ASK.
Jennifer Rothwell is currently the first and only designer that digitally prints and manufactures in Ireland, a fact that makes me extremely proud.  I have been manufacturing my designs in Ireland since 2010 and I'm extremely passionate about bringing manufacturing back to Ireland once again and to create employment in the wider Irish design community, thus keeping families together and the design talent in Ireland.