WEARINGIRISH NYC 2018 showcases ten top designers from Ireland. In this series, meet the makers and hear their stories. Here Margaret chats with Alison Conneely, Creative Director, Alison Conneely.
Visit alisonconneely.com for more!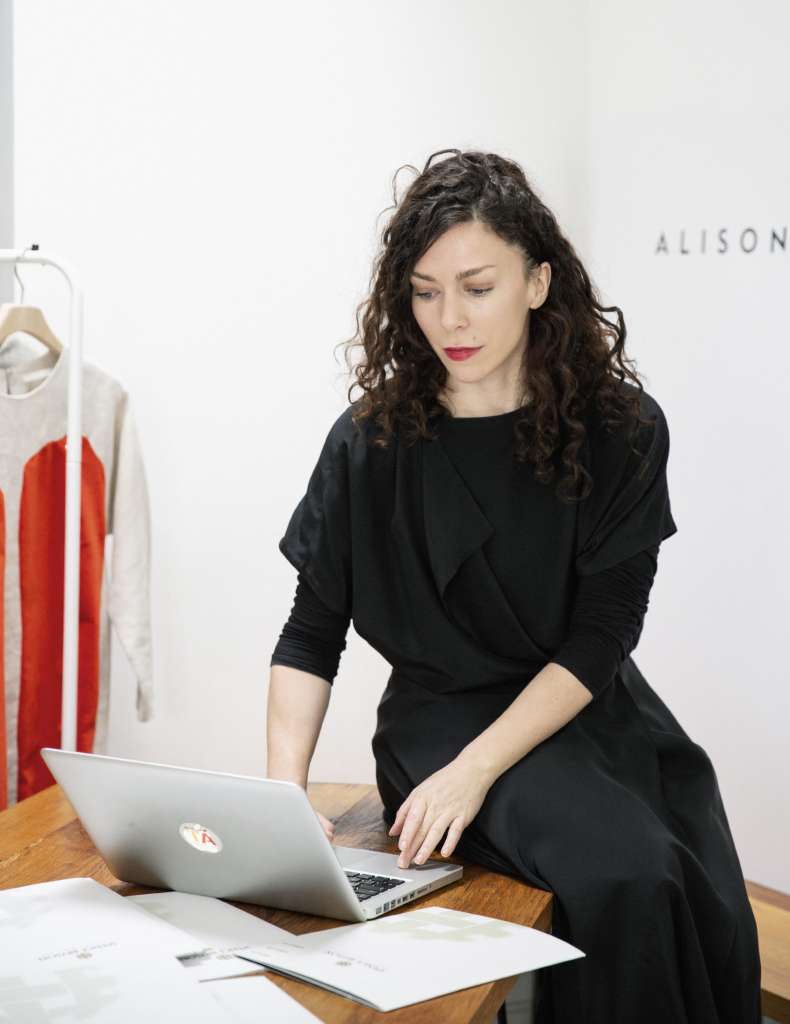 TELL US ABOUT YOUR BACKGROUND.
I was born on the Ardbear Peninsula, in Ireland's iconic western landscape terrain, Connemara, which is also home to the creative imagination of director John Ford and playwright Martin McDonagh's famed 'Beauty Queen of Leenane'. These dramatic moorlands have grounded, inspired and informed my narrative as a contemporary Irish designer.
WHAT HAS BEEN THE MOST DEFINING MOMENT OF YOUR CAREER?
Being chosen as Irish design representative by the National Museum of Ireland for the 1916 centenary commemorations.
WHAT'S YOUR AMBITION FOR YOUR BRAND?
My ambition is to create a modern design mythology rooted in the lost traditions of the past, create cutting-edge garments for future generations to wear (embedded with subtle historic symbolism – a world view into intricate island folk-ways) and weaving fine-line garments for 21st century heroines.
DO YOU HAVE A MENTOR? 
My mentor is my extraordinary friend and collaborator, the designer and artist, Roisin Gartland.
WHAT IS THE HEART AND SOUL OF YOUR BRAND?
The heart and soul of my brand can be found in the fine lines, metamorphic contours and mellow tones with shades of iridescent. Our practice is rooted in the rich textile tradition of Ireland's dramatic Atlantic coast, and our design philosophy is imagined through a delicate modernist lens.  Many of the fabrics are hand dyed locally on the Ardbear Peninsula, from rock moss, gorse, and seasonal heather blooms. In addition, a selection of our headpieces are woven from organic wool on our family farm. The flora and fauna of Connemara's botanical wonderland inspires the template of our unique artisan tailoring methods.
WHO IS YOUR DREAM MUSE? WHY?
My dream muse would be Eileen Grey, a pioneering Irish artist, architect and designer. She was a modernist whose soul was in her everlasting vision and genre-defying ethos.
YOUR DREAM COLLABORATION?
I believe that our skill set as makers, our ancestral Irish roots, our organic textile focus and contemporary vision would merge successfully with the conscientious lifestyle philosophy and trusted curatorial platform that is Goop. Just imagine our handcrafted Irish tweed coat on Goop's living platform. Spun and dyed in the wild Atlantic coastline, it is crafted with a modern lens, worn by the mindful woman.
WHAT INSPIRES YOU ABOUT THE WEARINGIRISH MOVEMENT?
WearingIrish is both inspired and alluring. It's the untold tale, living folklore stitched and woven, worn and shared. 
WHO DO YOU WANT TO WEAR IRISH?
Evening strollers, night time revelers, autumn brides and shy subway commuters, nostalgic city dwellers, Springtime femininities, and those inclined to wander in a living old day dream are among those I wish to wear Irish.
TELL US WHAT NEW YORK CITY MEANS TO YOU.
To me, New York City is a prism for creative pilgrims, a hive for the immigrant dream.
TAKE US THROUGH YOUR CREATIVE PROCESS.
I think all creative people have influences greater than they imagine. From the epic saga of Queen Meadhbh of Connaught to the rhythmic beat of the loom weaving my tweed in the valley of Ardara, Donegal. A walk through the mauve heather and bog-cotton bogs in June to the captivating Pina Bausch in Cafe Muller. From the reveries of Plath, to the off-beat dance scene in Yorgos Lanthimo's film, Dogtooth. Watching Olwen Fouere enchant in James Joyce's River Run.
HOW DOES A SENSE OF PLACE INFORM YOUR CREATIVE PROCESS— SPECIFICALLY IRELAND?
The landscape of my playground growing up was a dramatic yet isolating canvas. Vast wind-swept moorland, meandering harsh Atlantic shoreline, isolated hawthorn trees, narrow winding roadways drifting into famine speckled mountains. I always tried to imagine characters walking through this wilderness, whether away from, lost in or coming back to it. I understand now that the characters of my imagination, as an island dwelling youth, were informed by a storytelling generation, pining for an era where people once populated the landscape as famine hungry peasants, spailpins, banshees, and other wandering souls. I wondered if there could ever be new archetypes imagined. What it is to be an Irish woman in the present, threading through a mythological past, stitching a more reflexive future. I hunted beyond the terrain of my locale, darting through history and time in Ireland, 3000 years prior to Queen Meadhbh of Connaught, to turn of the century Celtic Revival ambassadors- Maude Gonne, Lady Gregory, and Lilly & Lolly Yeats, W.B.'s overshadowed sisters. The old, the new, the brave and understated, I make for the heroines of today.
MOST COVETED ITEM IN YOUR COLLECTION?
My silk kidskin cape, sculpted on an ancient fur machine.
THREE THINGS YOU CAN'T LIVE WITHOUT?
I can't live without my 'Bella's Faul' tweed coat, a cycle through the valley of Leenane, Connemara towards sunset, or my thimble, my thread, my love.
YOUR GO-TO STYLING TRICK?
Pare it back.
TELL US ONE THING ABOUT YOURSELF THAT PEOPLE SHOULD KNOW THAT I DIDN'T ASK.
In my secret life, I am the eternal nine-year-old tomboy, parallel parking my go kart with denim shorts and scuffed knees singing 'Just Like a Prayer, I'll take ya there'.