WEARINGIRISH NYC 2018 showcases ten top designers from Ireland. In this series, meet the makers and hear their stories. Here Margaret chats with Anne Behan, Creative Director, Aine. 
Visit aineknitwear.com for more!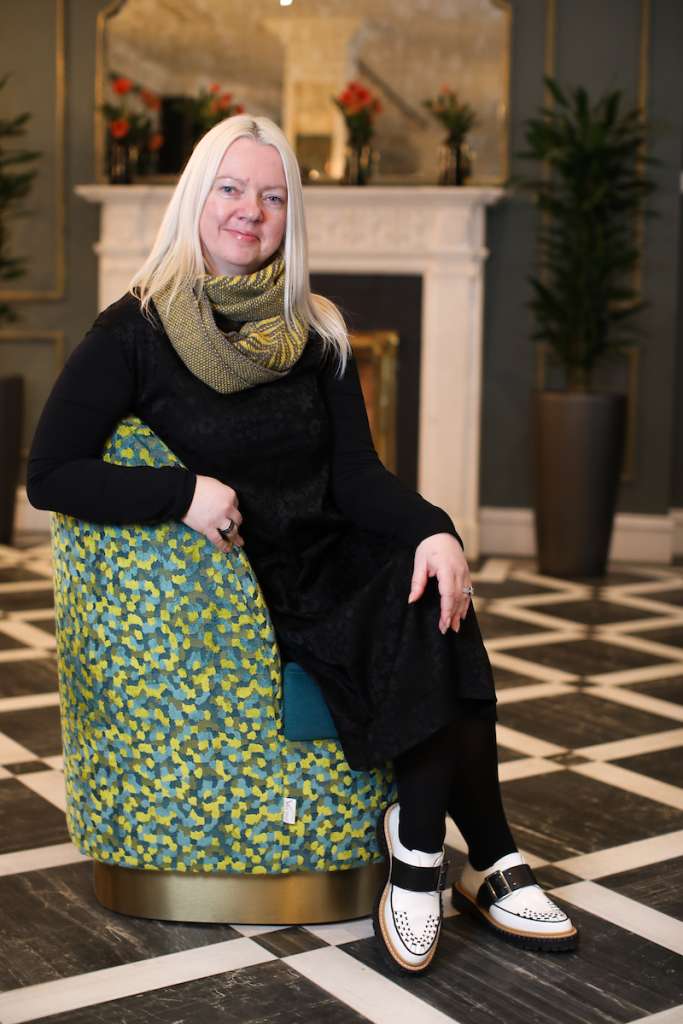 TELL US ABOUT YOUR BACKGROUND.
I graduated from the distinguished Limerick School of Art and Design (LSAD) with a degree in fashion design. My specialty was knitwear, winning the Student Knitwear Designer Award, and I went on to study for a postgraduate qualification in Knitwear and Computer Aided Design, also at LSAD. After graduation I worked at various fashion and knitwear companies, including Carraig Donn and Ireland's Eye Knitwear.
WHAT'S YOUR AMBITION FOR YOUR BRAND?
I would like my brand to sell worldwide and be synonymous with beauty, quality and heritage.
WHAT IS THE HEART AND SOUL OF YOUR BRAND?
The Aine label is firmly rooted in the rich heritage of Ireland's knitwear traditions. The brand brings these traditions into modern life using contemporary designs and incorporating color and texture into fabrics that create simple, easy to wear shapes. The label uses only the finest natural luxury yarns, such as cashmere blends, silk mixes and the softest lambswool sourced in Ireland, Scotland and Italy.
WHERE DOES YOUR BRAND NAME COME FROM?
Aine is the Celtic language translation for Anne.
WHO IS YOUR DREAM MUSE? WHY?
Alexander McQueen is my dream muse. I loved his mastery of taking an old style or pattern and updating it in a new, unrelated fabric to create something even more beautiful (like the AW 2006-7 dress made from pheasant feather or the 2001 SS mussel shell vest). I also love the way he recut fabrics, like tartan, to make them look new and different.
YOUR DREAM COLLABORATION? 
My dream collaboration would be with Vivienne Westwood.
WHAT INSPIRES YOU ABOUT THE WEARINGIRISH MOVEMENT?
WearingIrish is a celebration of the best Irish creations and their designers.
WHO DO YOU WANT TO WEAR IRISH?
I want anybody who likes the garments or jewelry, for either their design aesthetic or the story behind the brand, to wear Irish. 
TAKE US THROUGH YOUR CREATIVE PROCESS.
I start all my collections with a weekend away along the Wild Atlantic Way to shoot the colors and textures of the countryside. Then I go to a yarn fair in Florence to research new ideas in fiber technology, machinery, color and trends for the following season.  I decide on a theme and then swatch the yarns and colors together until I am happy with the look and feel of the knitted fabrics. The fall and flow of the textiles usually dictate the final shape and style of the garment.
WHAT DOES BEING IRISH MEAN TO YOU AND IN WHAT WAY HAS IT INFLUENCED YOUR CREATIONS?
I am proud of being Irish and of Ireland as a country. We are a people who are rooted in tradition and who consistently lead the way in achieving excellence. For a small country, our influence on the world stage is extraordinary. The history, the people, the culture and traditions, the landscape, the music and folklore all influence my designs.
MOST COVETED ITEM IN YOUR COLLECTION?
The most coveted item in my collection is a simple floral collar, knitted in the softest lambswool. It is decorative yet functional, keeping you warm without adding bulk to your silhouette.
THREE THINGS YOU CAN'T LIVE WITHOUT?
I can't live without color, texture and tradition.
YOUR GO-TO STYLING TRICK?
Black with a pop of color.
TELL US ONE THING ABOUT YOURSELF THAT PEOPLE SHOULD KNOW THAT I DIDN'T ASK.
I'm committed to supporting my local community by manufacturing and sourcing raw materials within my locality.  This helps to keep people in the rural communities and avoids the shift to urban areas.