WEARINGIRISH NYC 2018 showcases ten top designers from Ireland. In this series, meet the makers and hear their stories. Here Margaret chats with Garvan De Bruir, Creative Director and Craftsman, DE BRUIR. 
Visit debruir.com for more!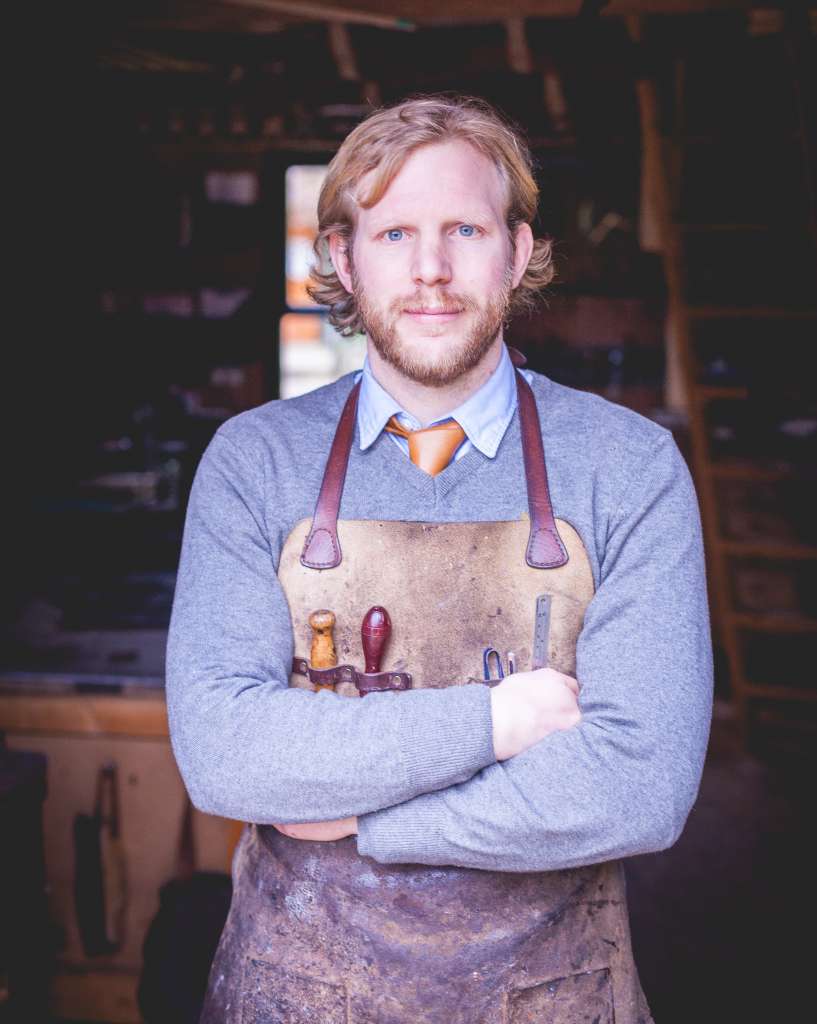 TELL US ABOUT YOUR BACKGROUND.
My formal training was as a furniture designer and craftsman in the UK. My graduate work won a 'Future of Design Award' in London and was exhibited in Dubai as the reward. I specialized in timber and cast metal but I loved incorporating leather for any upholstery. The early years of my practice were in the UK before relocating back home to Kildare and self-building the timber structures that form the DE BRUIR workshops. There, alongside making furniture, I also began experimenting with making leather bags.
WHAT WAS THE MOST DEFINING MOMENT OF YOUR CAREER?
Simply getting online was the most defining moment. In the early days of Etsy.com, I listed a few bags and was amazed at the confidence of a buyer in the USA, Australia, or Japan in making such a significant purchase based purely on some images, identifying the integrity of my leather and the honesty of my construction methods. I thought this bag-making venture must be worth pursuing.
WHAT'S YOUR AMBITION FOR YOUR BRAND?
The ambition is that people aspire to owning a DE BRUIR bag, mostly because they think they look handsome! But, of course, the appearance of the bag has to be backed up with an earned reputation for uncompromising quality and longevity. Each bag sold and in use should become a walking advertisement for the brand.
DO YOU HAVE A MENTOR IN BUSINESS?
Any mentoring that I've received thus far has been in creative or technical capacities. As the collection is nearing completion, I'd definitely welcome a mentor in helping to make the brand and business more commercial.
WHAT SETS YOUR DESIGNS APART?
In the DE BRUIR collection, the caliber of both the leather and the craftsmanship is paramount. My workshop is located in Kildare, the equestrian heartland of Ireland. In horse racing, leather is considered as a structural and industrial material.  Saddles and bridles are made to function and endure in hard-working environments. From the tanning specification of the leather, to the robustness of the stitching or the solid brass fixings, every detail must play its part for each item to succeed. Also, as I am essentially self-taught in bag making, approaching the process from a structural background has defined the unique aesthetic of the bags.
WHERE DOES YOUR BRAND NAME COME FROM?
DE BRUIR is my surname. It's quite a unique name so happily the .com version was available when launching the brand.
WHO IS YOUR DREAM MUSE, AND WHY?
It is probably towards characters in the style of Indiana Jones. There is a ruggedness to the bags that enjoy being challenged on all manner of adventures. And afterwards to just be dusted off and polished back to life with just a few fading scars to tell the tale.
YOUR DREAM COLLABORATION?
I'd love to be investigating the potential for leather in tensile architecture or large installations. So any architect that will listen would do! Leather has largely been forgotten as the industrial material that featured throughout history. Its particular strengths and versatility made it a core material of many civilizations. As a natural and ecologically sustainable material, we should be seeking out more uses for it beyond just luxury items.
WHAT INSPIRES YOU ABOUT THE WEARINGIRISH MOVEMENT?
WearingIrish acknowledges that there is a community of designers in Ireland that are each working to a level of excellence in their field.  And, as importantly, there is a community of design patrons seeking our rich output around the world. As designer-makers, if we continue pursuing our creative ambitions, there is an audience to whom we can market our work.
WHO DO YOU WANT TO WEAR IRISH?
Any and all international design enthusiasts are the target for WearingIrish. We know we compete at the highest level in quality and sustainability and it falls on our design skills to appeal consistently on an international stage.
TELL US WHAT NEW YORK CITY MEANS TO YOU. 
It's an international style capital and the place where I'd envision my brand being appreciated. It comes with a particularly well-informed consumer, who places an emphasis on the source of a product and the authenticity behind the making of it.
TAKE US THROUGH YOUR CREATIVE PROCESS.
I prototype a lot. It is mostly investigating methods of construction, solving details and letting those solutions define the design. I use the various bags, accessories, or jacket prototypes myself to best inform and improve their functionality. I'm pretty reckless in how I treat the prototypes to ensure they are able to endure a long working life.
WHAT DOES BEING IRISH MEAN TO YOU AND IN WHAT WAY HAS IT INFLUENCED YOUR CREATIONS?
I think Irish designers have an affinity for the very core natural materials (wool, leather, wood, stone, ceramic, glass, metal…). We have an awareness of their properties when in their rawest stage and the ability to be inventive with their natural beauty. Perhaps this affinity is based on our closeness to the land and animals. There is little satisfaction for me in working with processed materials instead, designing and making from first principles brings the real reward.
HOW DOES A SENSE OF PLACE INFORM YOUR CREATIVE PROCESS— SPECIFICALLY IRELAND?
The specification of leather I use is typical of my local equestrian industry – leather is celebrated for its longevity in tough working environments. It is just a happy coincidence that it is also one of the most handsome and luxurious materials in the natural world!
WHAT'S THE MOST COVETED ITEM IN YOUR COLLECTION?
The Sports Bag is probably the most coveted design as it has the broadest appeal. It achieves a unisex design. While keeping the same features and proportions, simply tailoring the size and the texture of the leather will give it a more masculine or feminine feel.
THREE THINGS YOU CAN'T LIVE WITHOUT?
While I have a nice enough car, I really love my beaten-up van.  It allows me to do the most diverse projects. I'm self-building a house and, as always, my van is a complete workhorse.
Next comes the prototype of the wax-cotton gilet design. I've been wearing it doing everything from building stone walls to chain-sawing down trees. I'm testing it to destruction and it simply won't give in!
I do need my workshop too. It's an environment I've built around me – some spaces within it are suited for streamlined production but some purely for experimental work. It keeps me excited about the making process.
YOUR GO-TO STYLING TRICK?
I keep a long cut of leather as a scarf – it is the outside of the cow-hide so has one undulating edge and one straight-cut edge. It's classic color and texture combines with any outfit. Arranged tidily with the polished face out, it can achieve a formal look very effectively. Or bringing the open-grain face outwards and worn loosely, it can be windswept and adventurous. No matter how it is worn though, it always smells great!
TELL US ONE THING ABOUT YOURSELF THAT PEOPLE SHOULD DO THAT WE DIDN'T ASK.
My favorite sewing machine has to be a Pearson No.6! At well over 100 years old, and propelled by hand with a fly wheel, it achieves the most fantastic stitch (through up to 15mm thicknesses of leather). At the last count, I had 15 different industrial sewing machines in the workshop, all appropriate to different tasks, but nothing to rival the 19th century Pearson for timeless quality. It's fitting for such a legendary material!