WEARINGIRISH NYC 2018 showcases ten top designers from Ireland. In this series, meet the makers and hear their stories. Here Margaret chats with Sara Hall, Creative Director, Sands & Hall.
Visit sandsandhall.com for more!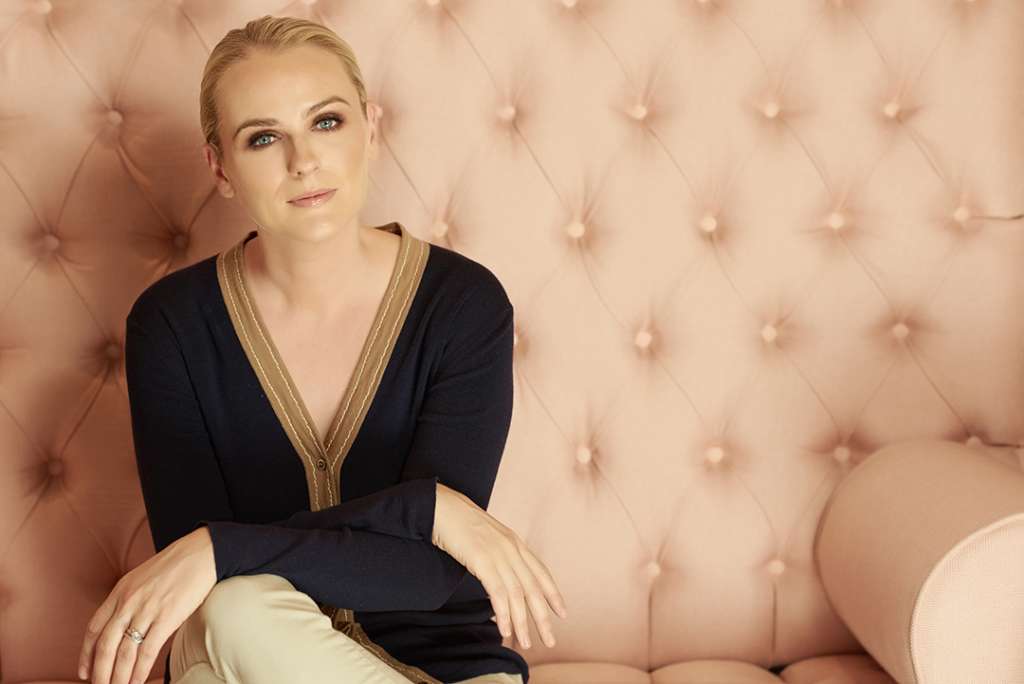 TELL US ABOUT YOUR BACKGROUND.
My background is in public relations and advertising, working in both Ireland and Canada. After the birth of my first daughter, I had some time to take stock and think about what I really wanted to do. I was inspired to begin working with materials that I loved and to create pieces that I had ideas for – the difficult part was getting it off the ground from there but I haven't looked back.
WHAT WAS THE MOST DEFINING MOMENT OF YOUR CAREER? 
That's a hard one to answer. There are many defining moments, but I think having the full AW1718 feature on Vogue UK was the 'what on earth' moment for me.
WHAT'S YOUR AMBITION FOR YOUR BRAND?
I would love to expand our collections and for Sands & Hall to become much more well-known. I'd like to have my pieces adorn women across the globe, showcasing the best of Irish design and heritage products, and demonstrating that slow fashion can make timeless fashion statements.
DO YOU HAVE A MENTOR IN THE BUSINESS? 
Unfortunately, I have not had the benefit of working closely with a mentor in a specific fashion house or education establishment, but I've been heavily influenced by the work of fashion houses such as Celine. I very much had to learn on the job – taking my initial ideas and finding the right people to guide and support me. In doing so, I was very fortunate to come across you and WearingIrish (through social media) and that was a defining moment. I look to you as someone I can go to for guidance and as an authority in the industry.
HOW YOU WOULD DEFINE THE HEART AND SOUL OF YOUR BRAND?
For me the clothing that you wear serves many purposes – some practical and some emotional. In particular, an outerwear piece needs to be both protective and make a statement. Over recent years, I have felt uneasy about the fast fashion culture and subconsciously longed for a slower, more honest and creative approach to the clothing that we wear, reminiscent of times gone by. It was this desire that encouraged me to create pieces for the modern-day woman that would be timeless yet contemporary, fashion forward yet taking inspiration from the past. I wanted to enable strong women everywhere to be able to make a fashion statement in a chic and comfortable way.
WHERE DOES YOUR BRAND NAME COME FROM?
Sands is my maiden name and Hall is my married name (my husband's surname). I felt it important to take ownership of the brand and give it true grounding and heritage.
WHO IS YOUR DREAM MUSE? WHY?
Kate Moss is my dream muse. I've enjoyed watching her through endless campaigns and many transformations, yet she always keeps an air of mystery and is true to herself. Her natural, honest beauty is a tonic – she is a strong, inspiring woman without being overt or fake.
YOUR DREAM COLLABORATION? 
My dream collaboration would be with the store Liberty, London. The history itself of the store and how it was founded 143 years ago by one individual with a 2,000 pound loan astounds me. The fashion in Liberty is so different when compared to any other store. Walking through it is a full-on experience and the buyers know what they are doing in each and every section. Any trip to London for me always includes a visit to Liberty. To see Sands & Hall in there some day would be a dream come true. 
WHAT INSPIRES YOU ABOUT THE WEARINGIRISH MOVEMENT?
I'm inspired by everything WearingIrish stands for—bringing Irish fashion design to the rest of the world and showing how much talent is in the beautiful Island of Ireland. I'm also thrilled to be able to use materials sourced in Ireland with a huge amount of heritage in my designs so WearingIrish is the perfect showcase for our brand. I think it is an incredible thing to do for Irish fashion and I am so proud and excited to be a part of it.
TELL US WHAT NEW YORK CITY MEANS TO YOU. 
It's huge. A dream come true – to dream of working in fashion and bring your ideas to life is one thing but to bring my designs to New York City is the ultimate goal.  After all, it's the center of the fashion industry.
TAKE US THROUGH YOUR CREATIVE PROCESS.
I'm not sure that the creative process ever really has a beginning, as I always have so many ideas and trends that I am following. So the beginning is really deciding which idea to focus on first and which elements are really essential to making the style special and uniquely Sands & Hall.
WHAT DOES BEING IRISH MEAN TO YOU AND IN WHAT WAY HAS IT INFLUENCED YOUR CREATIONS?
I have always been proud of my heritage and my Irish background as I grew up in a huge musical family, surrounded by beautiful, natural landscapes in Co Down, North of Ireland. I have always visited Donegal and it is the natural landscape there, and the wool of the animals that graze there, that go into our Donegal Tweed. I am so proud to be able to take this traditional ingredient and present it for today's fashion conscious.
HOW DOES A SENSE OF PLACE INFORM YOUR CREATIVE PROCESS— SPECIFICALLY IRELAND?
The honesty and culture of Ireland is part of my nature and inspires me to create pieces that stand out and stand proud – spreading the word as we Irish do. I think it is important to remember history and this is part of the creative process for me – taking inspiration from the classics of the past and turning them into timeless pieces of the future.
MOST COVETED ITEM IN YOUR COLLECTION?
Our fitted cape is the dream cape in our collection – it really makes a statement and is the most desired piece for special events and horse-racing. Personally though, I cannot be parted from the new Relaxed Coat which features in our AW1819 collection, especially in Sedwick Dove Donegal Tweed.
THREE THINGS YOU CAN'T LIVE WITHOUT?
I can't live without my loved ones, coats and water!
YOUR GO-TO STYLING TRICK?
I like to pair a vintage find with an expensive piece as they bounce off each other so well – elevating each other in different ways. 
TELL US ONE THING ABOUT YOURSELF THAT PEOPLE SHOULD KNOW THAT I DIDN'T ASK.
I'm actually quite a shy person and I get nervous when public speaking, even though my current and past jobs would suggest differently. I feel a lot more comfortable when I am talking about the things I'm passionate about, like my business.