WEARINGIRISH NYC 2018 showcases ten top designers from Ireland. In this series, meet the makers and hear their stories. Here Margaret chats with Aoibheann MacNamara and Triona Lillis of The Tweed Project. 
Visit thetweedproject.com for more!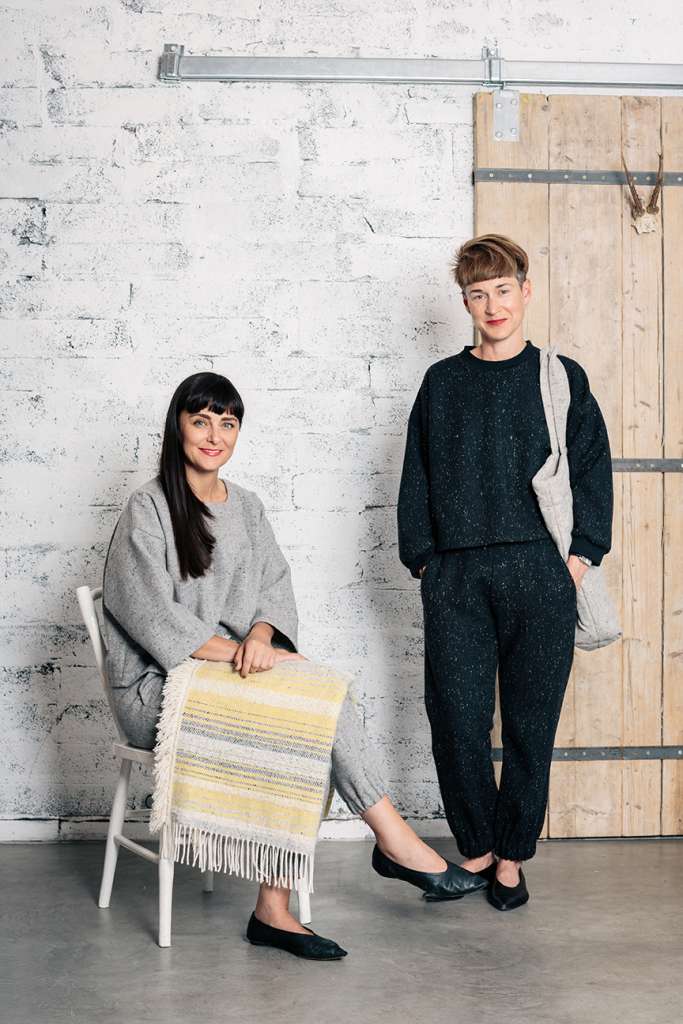 TELL US ABOUT YOUR BACKGROUND.
There are two of us at The Tweed Project. Aoibheann MacNamara's background is in arts administration but is also a specialist at Ard Bia, an enduring restaurant in Galway. She's into slow food and now into slow fashion. Triona Lillis is a costume designer in the Irish TV and film industries. 
WHAT'S YOUR AMBITION FOR YOUR BRAND?
Our ambition is to move gently in business so that the pieces exist for a lifetime. We work in an interesting and humour-filled way in the west of Ireland.
HOW YOU WOULD DEFINE THE HEART AND SOUL OF YOUR BRAND?
We work with our indigenous Irish fabrics and with an embrace and respect for a global world. We take influence from travel and subtly nod to trends. We work slowly and the product exists gently within the heritage world of fashion.
WHERE DOES YOUR BRAND NAME COME FROM?
Our brand name is made, produced and inspired by the west of Ireland. It exists only because of the geographical location.
WHO IS YOUR DREAM MUSE? WHY?
The landscape of the west of Ireland remains always, and totally, our overly-communicative muse.
YOUR DREAM COLLABORATION? 
Our dream collaboration is with each other, when we would be free of other personal and work-related commitments.
WHAT INSPIRES YOU ABOUT THE WEARINGIRISH MOVEMENT?
WearingIrish is challenging transparency in production and authenticity and that is crucial for our industry's future and global reach.
WHO DO YOU WANT TO WEAR IRISH?
We want the youth to wear Irish so they care about what they wear and care about their fashion heritage and shout about it.
TELL US WHAT NEW YORK CITY MEANS TO YOU. 
New York City has always meant uber cool fun. It's a place where anything can happen. 
TAKE US THROUGH YOUR CREATIVE PROCESS.
We created a capsule starter collection and we add to it slowly year on year. We do what we want, when it feels right, and generally feel out the same direction, whether it be adding tassels or producing tartan.
WHAT DOES BEING IRISH MEAN TO YOU AND IN WHAT WAY HAS IT INFLUENCED YOUR CREATIONS?
The brand only exists for us because we are Irish and we want to modernize and subvert the tradition of Irish-ness. It is our total inspiration.
MOST COVETED ITEM IN YOUR COLLECTION?
The most coveted item in our collection would have to be our tweed kaftan done in collaboration with Starstyling Berlin and printed with glow-in-the-dark designs.
THREE THINGS YOU CAN'T LIVE WITHOUT?
We couldn't live without our children, the sea, and good relationships.
YOUR GO-TO STYLING TRICK?
An amazing coat can always cover sins!
TELL US ONE THING ABOUT YOURSELF THAT PEOPLE SHOULD KNOW THAT I DIDN'T ASK.
We're a little crazy!