WEARINGIRISH showcases top designers/brands from Ireland.
In this series, meet the designers and hear their stories. Here Margaret chats with Bernie Murphy.
Visit berniemurphy.com for more!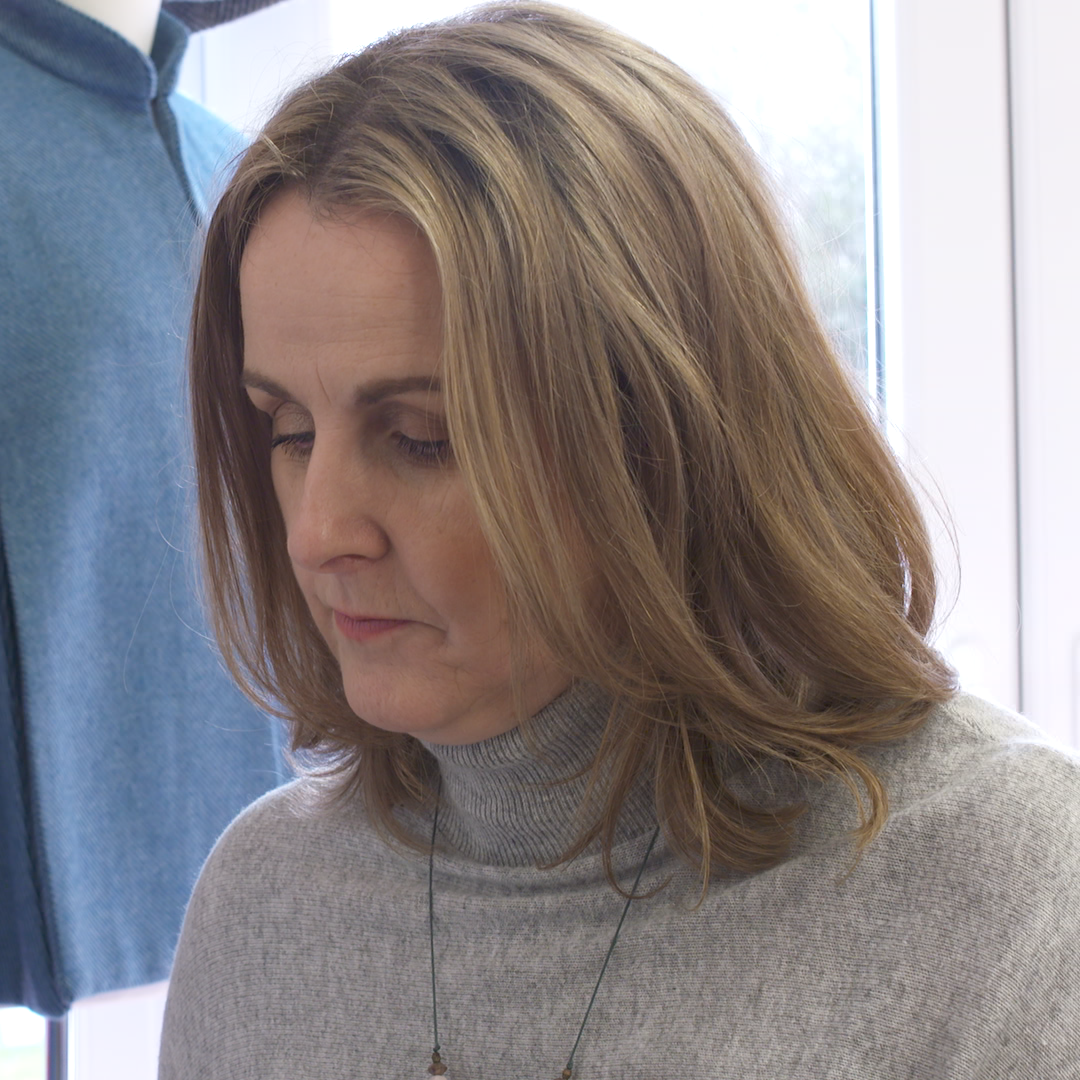 TELL US ABOUT YOUR BACKGROUND.  
My name is Bernie Murphy, textile artist/fashion designer based in Buncrana, Co. Donegal, Ireland. My passion in life has always been fashion and textiles. I worked as a garment technologist with Fruit of the Loom International for 21 years, but after the company went offshore, I saw an opportunity, so I returned to college and completed a top-up BA Honours Degree in Fine and Applied Art and specialized in Textile Art at Ulster University, Belfast. I haven't looked back since.
WHAT WAS THE MOST DEFINING MOMENT OF YOUR CAREER?
Launching my online business in April 2017 was the most defining moment of my new career. And then there was everything that followed—media coverage in national fashion magazines and newspapers and being stocked in prestigious shops nationwide.
WHAT'S YOUR AMBITION FOR YOUR BRAND?  
To design and create well enough to my satisfaction; beautiful contemporary Irish fashion design with its 'Heritage-style' that others will enjoy, admire and pass down to the next generation.
HOW YOU WOULD DEFINE THE HEART AND SOUL OF YOUR BRAND?
Imagined, designed and handcrafted in Donegal, Ireland.
WHERE DOES YOUR BRAND NAME COME FROM?  
I use my name, Bernie Murphy, my personal identity. And the surname is most certainly Irish.
WHO IS YOUR DREAM MUSE? WHY?
My dream muse would have to be Sarah Jessica Parker. I would love to see her wearing one of my designs walking down Fifth Avenue in New York City or at her second home, Donegal.  
YOUR DREAM COLLABORATION?  
My dream collaboration would be with Chanel.
WHAT INSPIRES YOU ABOUT THE WEARINGIRISH MOVEMENT?
The WearingIrish Movement is a wonderful initiative to showcase on an International platform the wealth of contemporary Irish fashion and design we have here in Ireland.  
WHO DO YOU WANT TO WEAR IRISH?  
I'd love to see everyone wearing Irish and to be recognized for it all over the world.
TAKE US THROUGH YOUR CREATIVE PROCESS. 
I love exploring the drape of Donegal tweeds and making my own patterns for each design.  I like to explore new ways to elaborate on existing techniques and processes to make the ordinary look extraordinary.
HOW DOES A SENSE OF PLACE INFORM YOUR CREATIVE PROCESS— SPECIFICALLY IRELAND?
A sense of place means everything to me, and Buncrana, Co. Donegal has a massive influence on my creative process. Every day—hail, rain or shine—I go for walks along the shores of Lough Swilly to gain inspiration, to recharge and to just enjoy living by the sea. I've been so influenced by my homeland that I called my first collection exactly that—'Homelands;' my new collection is called 'Belonging.'
WHAT DOES BEING IRISH MEAN TO YOU AND IN WHAT WAY HAS IT INFLUENCED YOUR CREATIONS?  
Being Irish means so much to me.  My creations are inherent of the Irish textile industry, an 'invented tradition' with a cultural identity in modern and contemporary Irish Fashion design.
MOST COVETED ITEM IN YOUR COLLECTION?
The Donegal cape/coat featured in my new 'Belonging' Collection. The piece brings the landscape of Donegal to life through the weave, colours, textures and blends of yarn used to create the Donegal tweed.
THREE THINGS YOU CAN'T LIVE WITHOUT? 
Family, fabric and my sewing machine.
YOUR GO-TO STYLING TRICK?  
Less is more… if in doubt, leave it out!
TELL US ONE THING ABOUT YOURSELF THAT PEOPLE SHOULD KNOW THAT I DIDN'T ASK. 
I'm the proud mother of two wonderful children: my daughter Bria and son Frank-Aran.