WEARINGIRISH showcases top designers/brands from Ireland.
In this series, meet the designers and hear their stories. Here Margaret chats with Fiona Heaney of fee G.
Visit feeg.ie for more!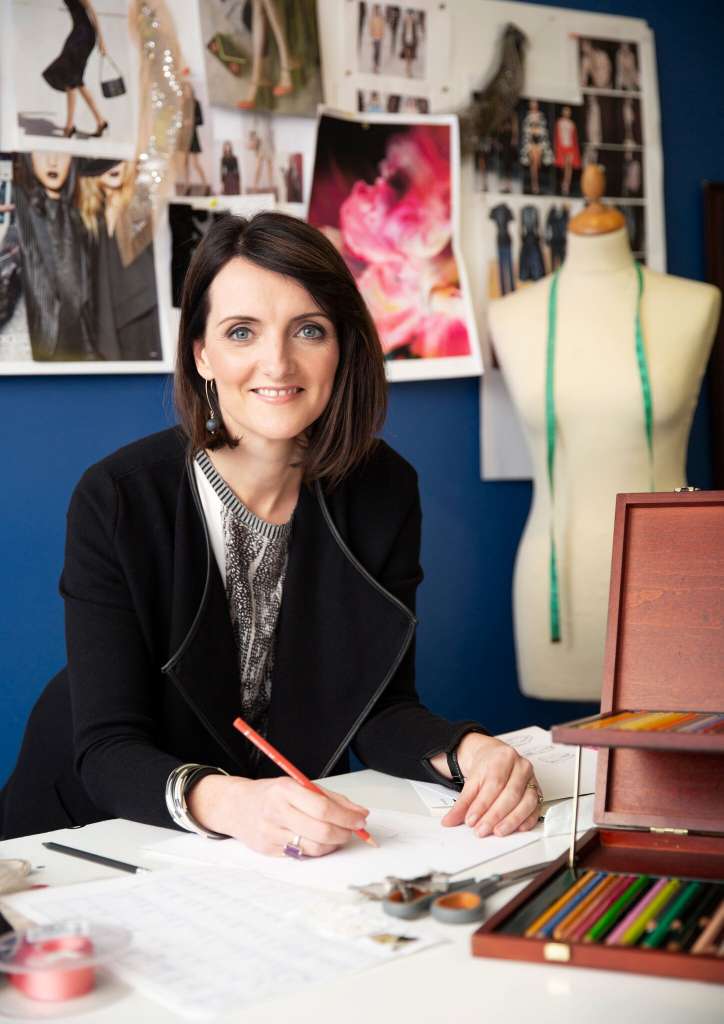 TELL US ABOUT YOUR BACKGROUND.
I graduated from NCAD Dublin with 1st class Honours in Fashion Design. I designed for some years in Dublin before moving to Sydney, designing for an Australian brand and The David Jones Group. I returned to Dublin and moved into ladies' fashion buying before being headhunted to design and launch a new label to market. I left to create my label fee G in 2004. I designed for others in the early stages of fee G before going it alone; I have never looked back since taking the plunge.
WHAT WAS THE MOST DEFINING MOMENT OF YOUR CAREER?
I received a phone call from Harvey Nichols, asking to stock fee G. We were the first Irish Brand to be stocked there. It was a huge moment for me, a real sense of how far we had come from a brand I started in my living room. We supply 100+ boutiques every season with my collection.
WHAT'S YOUR AMBITION FOR YOUR BRAND? 
To make fee G an internationally successful brand in four different markets (countries) with 200+ stockists.
HOW YOU WOULD DEFINE THE HEART AND SOUL OF YOUR BRAND?
At fee G, we pride ourselves on honesty, passion, and creativity. We have the best team dedicated to bringing the most desirable collections to the boutique customer. As a design company, our goal is to continuously evolve and create exciting collections. As we enter our 15th year, we are as excited about the business as the day we entered it.
WHERE DOES YOUR BRAND NAME COME FROM? 
My friends call me "fee" and my husband's name is Don Gormley "G," so we combined our names and talents and formed the unique brand "fee G."
YOUR DREAM COLLABORATION?  
I would love to collaborate with an interior designer, putting the fee G stamp of colour and pattern on interior homes. Using bold prints, colours that pop, comfortable textures, a synergy of what we do with ladies' fashion.
WHAT INSPIRES YOU ABOUT THE WEARINGIRISH MOVEMENT?
As a movement, it means stronger together, supporting a variety of talents; fashion, jewelry, millinery to name a few. It is offering a platform to our wonderful designers and creatives that are good enough to compete on a global level.
WHO DO YOU WANT TO WEAR IRISH?
Everyone! It's an all-inclusive movement.
TAKE US THROUGH YOUR CREATIVE PROCESS. 
I work on a seasonal collection, every six months delivering a new collection of +75 pieces. I attend shows in Paris and Milan to choose unique fabrics for the season ahead; I love to select new fabrics and colours to use; I never fail to get excited to start on a new collection. I design in-house and with mills to design prints that are exclusive to fee G. This gives fee G a strong sense of identity and individuality. I drape fabrics and use a creative patternmaking process to create new shapes. I love the newness every single season. It is so important to continually evolve as a designer both for myself and for our customer.
HOW DOES A SENSE OF PLACE INFORM YOUR CREATIVE PROCESS— SPECIFICALLY IRELAND? 
I draw from nature and Ireland continually inspires. The magnificent landscape and ever-changing weather of this great island is a wealth of culture, music, and poetry providing a never-ending supply of inspiration.
MOST COVETED ITEM IN YOUR COLLECTION?
A printed linen dress with faggotting details, lined in cotton. The dress is so versatile—it can be dressed up with heels or worn casually with trainers.
THREE THINGS YOU CAN'T LIVE WITHOUT?
Family, friends and fresh air—I love the outdoors.
YOUR GO-TO STYLING TRICK? 
Add a pop of colour to any outfit; it will instantly lift your mood.
TELL US ONE THING ABOUT YOURSELF THAT PEOPLE SHOULD KNOW THAT I DIDN'T ASK. 
I love to sea swim.