WEARINGIRISH showcases top designers/brands from Ireland.
In this series, meet the designers and hear their stories. Here Margaret chats with Sharon Hoey of Andtate.
Visit andtate.com for more!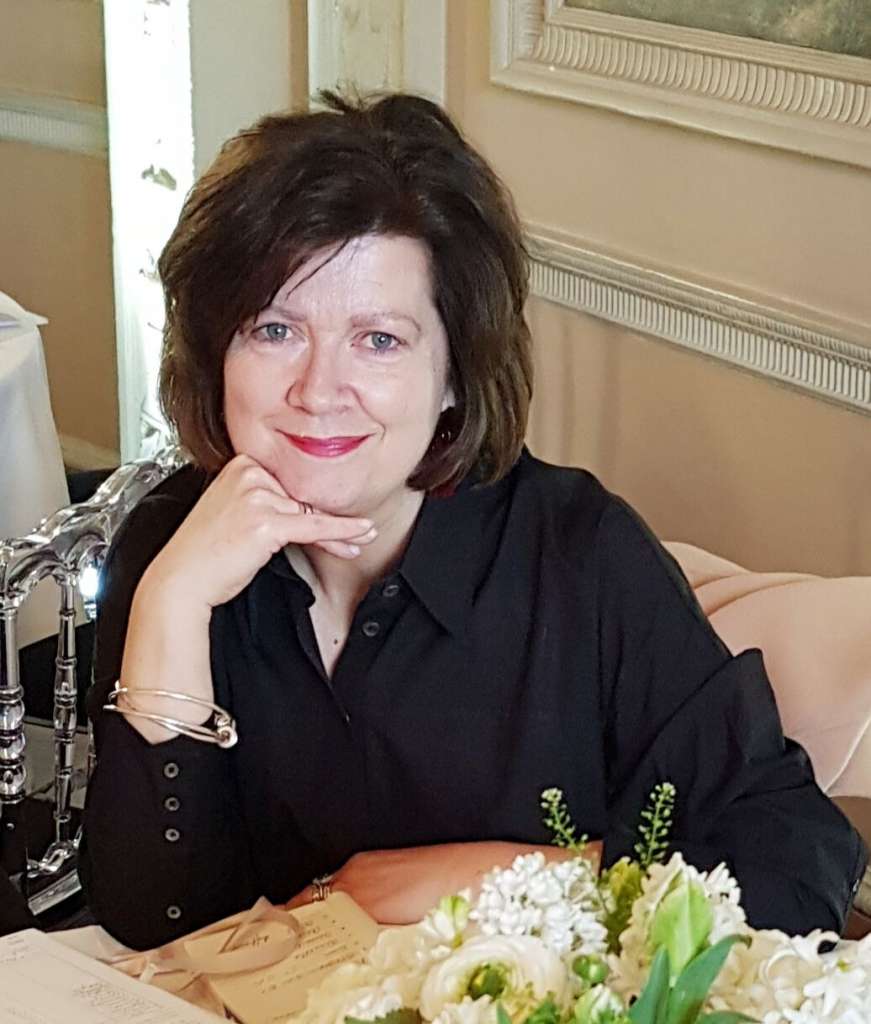 TELL US ABOUT YOUR BACKGROUND.
I was born in Dublin and live here with my husband (business partner) and three sons. I began my career at the Grafton Academy Dublin and started my fashion business in 1985. I have had the business all my working life, and I am very excited about my new brand—Andtate shirts.
WHAT WAS THE MOST DEFINING MOMENT OF YOUR CAREER?
It was closing a deal to stock a chain of top UK stores in 2000. It changed our business entirely and allowed us to think like a big business, to grow and experiment with new markets and products.
WHAT'S YOUR AMBITION FOR YOUR BRAND? 
To build Andtate Shirts into a successful global brand.
HOW YOU WOULD DEFINE THE HEART AND SOUL OF YOUR BRAND?
Real shirts for real women who appreciate sustainable luxury fashion.
WHERE DOES YOUR BRAND NAME COME FROM? 
The And of Andtate is my father-in-law's initials, a very dapper dresser born in 1906.
WHO IS YOUR DREAM MUSE? WHY? 
I don't have any one person in mind; I am inspired by so many people who are driven to succeed on their chosen paths in business, sport, and the arts.
YOUR DREAM COLLABORATION?  
A Vogueshoot with Isabella Rossellini, Jane Fonda, Queen Rania of Jordan, Meghan Markle, and Saoirse Ronan as they are all incredible women of different ages and talents who look amazing in white shirts!
WHAT INSPIRES YOU ABOUT THE WEARINGIRISH MOVEMENT?
The simplicity of the concept and how one person can highlight the wealth of design and talent that is in Ireland, but largely undiscovered around the world. 
WHO DO YOU WANT TO WEAR IRISH?
I would like to see more people buy less but choose better. As Irish products are of a very high standard of quality and design, they are the perfect choice for all markets.
TAKE US THROUGH YOUR CREATIVE PROCESS. 
I have never found it easy; I never seem to have a pencil at the ready when I get an idea. I start each season under pressure, but somehow 30 odd years later I always make the deadlines. A rope to tie me to the chair, a pen and paper in a quiet space are how I begin!
HOW DOES A SENSE OF PLACE INFORM YOUR CREATIVE PROCESS— SPECIFICALLY IRELAND? 
I work in the capital. I love Dublin and need the buzz of cities. I absorb my ideas as I'm going about my business, but it's down in wild west Cork where I can get some space to draw and sketch that my creative process starts. I escape to my sanctuary there as often as possible.
WHAT DOES BEING IRISH MEAN TO YOU AND IN WHAT WAY HAS IT INFLUENCED YOUR CREATIONS? 
I feel Irish, particularly when abroad. I love that we have an exceptional heritage in handcrafted designs—linen, wool, glass, tweed, leather, etc. and I often look to our past for design influence.
MOST COVETED ITEM IN YOUR COLLECTION?
The first shirt I designed for Andtate.
THREE THINGS YOU CAN'T LIVE WITHOUT?
Chanel No 5, red lipstick and white wine.
YOUR GO-TO STYLING TRICK? 
A good blow-dry, red lipstick and a statement bag.
TELL US ONE THING ABOUT YOURSELF THAT PEOPLE SHOULD KNOW THAT I DIDN'T ASK. 
I love all aspects of building. I'm fascinated by structure and sometimes wish I had studied engineering.