WEARINGIRISH showcases top designers/brands from Ireland.
In this series, meet the designers and hear their stories. Here Margaret chats with Edel MacBride.
Visit edelmacbride.com for more!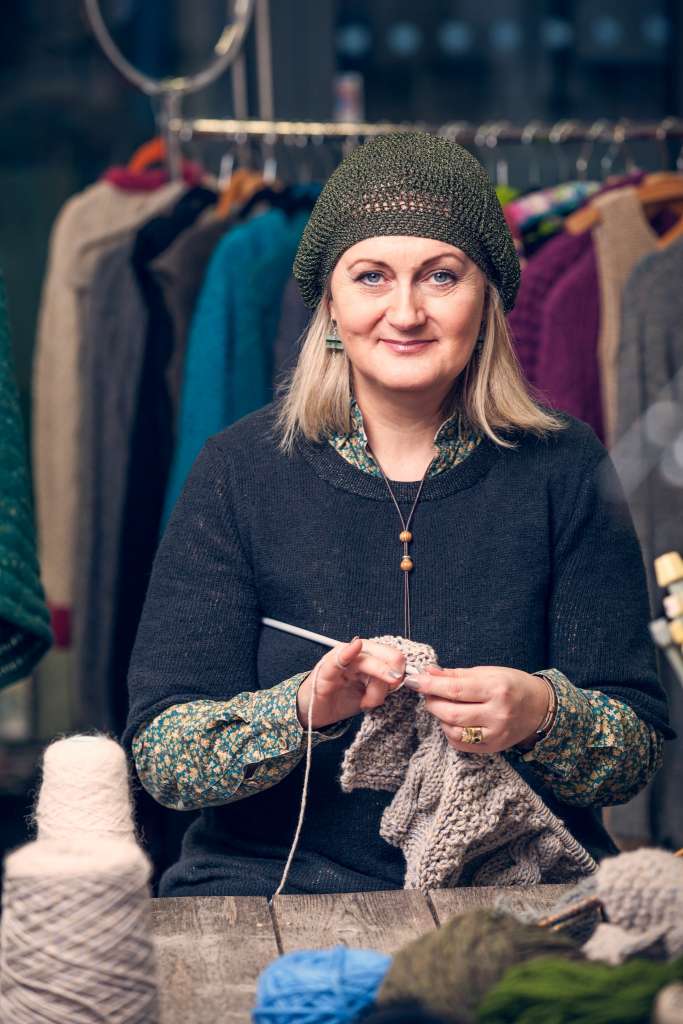 TELL US ABOUT YOUR BACKGROUND.
I was born the eldest (and shortest) of six children in the one-horse, seven-church village of Convoy in Donegal. I was inspired creatively at home—my mum knit, so I learned to knit and sew, and I helped at my granny Margaret's busy dressmaking studio.
I completed foundation art at LYIT Letterkenny and fashion design at LSAD Limerick. I was a fashion intern at Neiman Marcus in Boston while studying entrepreneurship at Boston College. Years of making, wholesaling, retailing and consulting followed under my Edel MacBride label in both Derry and Donegal. In 2010, I founded Knitfield to conserve local skills through sharing knowledge.
WHAT WAS THE MOST DEFINING MOMENT OF YOUR CAREER?
Winning "Knitwear Designer of the Year" at the Late Late Show Fashion Awards in 1995.
WHAT'S YOUR AMBITION FOR YOUR BRAND?
Excellence and evolution of sustainable knitwear using more 100% Irish provenance product. I want to monetize our design rich pattern archive of thirty years, too.
HOW YOU WOULD DEFINE THE HEART AND SOUL OF YOUR BRAND?
A desire to rebirth a local textile tradition in a sustainable manner.
WHERE DOES YOUR BRAND NAME COME FROM?
My brand, Edel MacBride, is my maiden name. I huff if the Ais left out of MacBride.
Knit-field embodied a feeling of freedom to indulge a craft dream for me.
WHO IS YOUR DREAM MUSE? WHY?
After watching "A Star is Born," I found myself drawn to Barbra Streisand.
I love that Streisand's manager of over fifty years, Marty Erlichman, was the one who made the Clancy brothers wear their white Aran sweaters on the Ed Sullivan Show.
YOUR DREAM COLLABORATION?
I have been a Levi's fan since my teenage years and loved their collaboration with Liberty print and feel they are tagging craft well to their brand heritage. I have ideas and have always loved patches!
WHAT INSPIRES YOU ABOUT THE WEARINGIRISH MOVEMENT?
From the beginning, the simplicity of vision and lack of dogma made #WearingIrish an attractive mission to me—plus I believe in the power of a busy woman to get the job done.
WHO DO YOU WANT TO WEAR IRISH?
Supportive customers over the decades aside, I wish more Irish in Ireland would believe in #WearingIrish. We need to offer the engaged diaspora more choice and more effortless fulfillment, too.
TAKE US THROUGH YOUR CREATIVE PROCESS.
I constantly handknit swatches and fill notebooks with doodles. My studio combines hand framed knitting with highly skilled handknitting and crochet.
I like to design with a particular brief but expect artistic freedom. My sixth sense takes over in predicting great combinations of texture, colour, stitch reference and shape. I have learned to trust my judgment and look less at trends.
HOW DOES A SENSE OF PLACE INFORM YOUR CREATIVE PROCESS— SPECIFICALLY IRELAND?
As an Irish knitwear designer, place has been both an inspiration and a drawback.I am very grateful for skills learned young, but initially, my call was to a world of fashion as defined by my diva-like aunts in the 1970s. Aran knitting, for example, was a 'genre' I was running from or at times, trying to change.
But eventually, the grasshopper became the master. Time and opportunity awakened within me a love for this unique Irish design language. I believe my role is to carry the torch and make it relevant, making the very best Aran handknits in the world and to #KeepIrelandKnitting.
WHAT DOES BEING IRISH MEAN TO YOU AND IN WHAT WAY HAS IT INFLUENCED YOUR CREATIONS?
Being Irish means different things in different places. However, I found a new alignment with my cultural identity by exhibiting at Milwaukee Irish Fest in 2011. People were so vocal and encouraging about the skill and quality of my work. I return every year for a confidence boost!
MOST COVETED ITEM IN YOUR COLLECTION?
A Kelly green handknit Adam-Eve hoodie in a merino and mohair blend, spun in Donegal.
THREE THINGS YOU CAN'T LIVE WITHOUT?
My family, the clear Donegal air and the Derry sense of humor.
YOUR GO-TO STYLING TRICK?
My grandmother always said, "Show off your best bits".
TELL US ONE THING ABOUT YOURSELF THAT PEOPLE SHOULD KNOW THAT I DIDN'T ASK.
A humblebrag is my thank you letter from Hillary Clinton, personally signed after their first visit to Derry in November 1995. I still remember the postman's quizzical look at the large White House stamped envelope.