WEARINGIRISH showcases top designers/brands from Ireland.
In this series, meet the designers and hear their stories. Here Margaret chats with Robbie Henshaw of Henshaw Eyewear.
Visit henshaweyewear.com for more!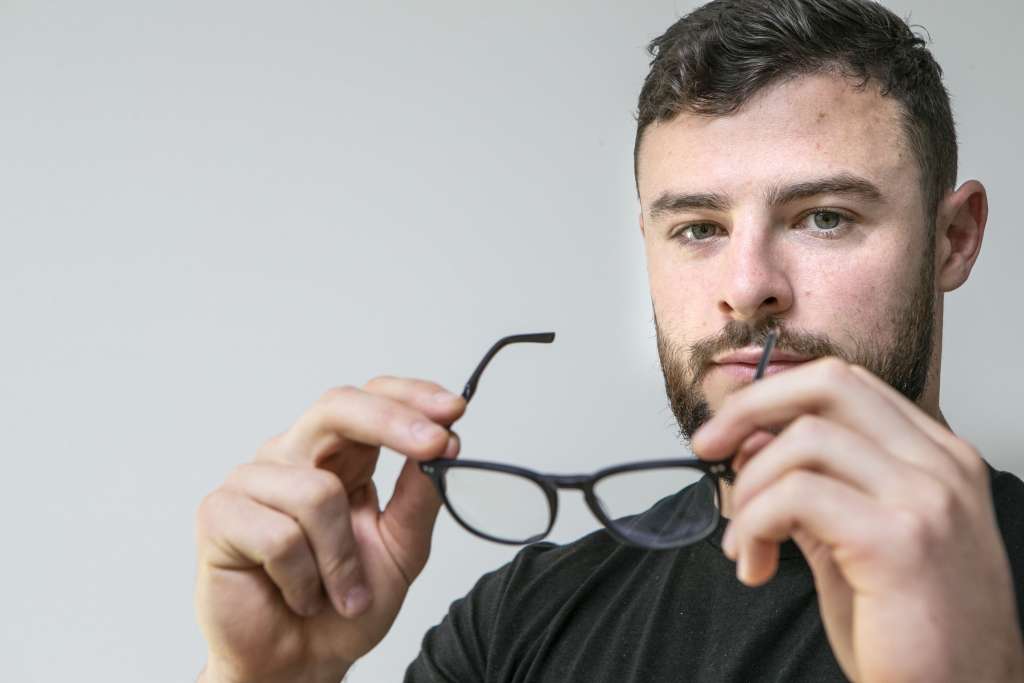 TELL US ABOUT YOUR BACKGROUND.
I am from Athlone, Co. Westmeath and grew up on the banks of the River Shannon. I have recently completed a degree in Economics at University College Dublin, and I play professional rugby for Leinster and Ireland. The idea for my eyewear brand came after I began to experience problems with my eyes after prolonged time looking at screens. I researched the issue and discovered I was suffering from digital eye strain.
WHAT WAS THE MOST DEFINING MOMENT OF YOUR CAREER?
It has to be winning the PRO12 Trophy with Connacht in 2016. A lot of people gave us no chance, but we believed in ourselves, our strategy, and most importantly, we believed in the people of the province who backed us all the way. It shows that despite all the odds if you believe in the process, you will increase the chances of success, which is something I have taken with me into the business.
WHAT'S YOUR AMBITION FOR YOUR BRAND?
To educate society on the importance of eye health and eye care. I want to develop an internationally known eyewear brand from Ireland.
WHERE DOES YOUR BRAND NAME COME FROM? 
We played around with a few different names, but I kept coming back to "Henshaw" as I wanted to keep family rooted in everything we do.
YOUR DREAM COLLABORATION?
I want to collaborate with Niall Horan. He's also from Westmeath and is a talented musician making great strides in the USA.
WHAT INSPIRES YOU ABOUT THE WEARINGIRISH MOVEMENT?
 WearingIrish has inspired us immensely on this journey, showing us that when you put the work in, global success is possible. Designer Alison Conneely is an incredible story coming from WearingIrish, and in time we hope we'll have a similar path.
WHO DO YOU WANT TO WEAR IRISH?
Young and old, from every corner of the planet. The creativity coming out of Ireland is world-class, and WearingIrish designs is a gift.
HOW DOES A SENSE OF PLACE INFORM YOUR CREATIVE PROCESS— SPECIFICALLY IRELAND?
My latest collection is inspired by my love of the river and especially Lough Ree. We have created a collection for those who love the outdoors, who love an adventure. I named each of the frames after a part of Lough Ree in Athlone. The Lecarrow frames are my personal favourite in the sunglass collection.
WHAT DOES BEING IRISH MEAN TO YOU AND IN WHAT WAY HAS IT INFLUENCED YOUR CREATIONS? 
My whole career revolves around my pride in being Irish. Wearing the green jersey has opened my eyes to Irish communities both here and across the world. I am proud to represent Ireland on the rugby pitch and equally pleased to have launched an Irish eyewear brand.
MOST COVETED ITEM IN YOUR COLLECTION?
My favorite pair are the Henshaw I Blue Block glasses.
THREE THINGS YOU CAN'T LIVE WITHOUT?
Coffee, my BBQ, and my accordion.
YOUR GO-TO STYLING TRICK? 
You can't go wrong with a plain white T-shirt.
TELL US ONE THING ABOUT YOURSELF THAT PEOPLE SHOULD KNOW THAT I DIDN'T ASK.
I have 20/20 vision, so I never needed to wear prescription glasses. However, due to my use of screens, i.e., laptops, smartphones, etc., I began to experience eye strain. This inspired me to create my brand. I want to educate people about my blue light glasses and the importance of wearing them, regardless of whether you have a prescription or not.