WEARINGIRISH showcases top designers/brands from Ireland.
In this series, meet the designers and hear their stories. Here Margaret chats with Ashleigh Myles.
Visit ashleighmylesmillinery.com for more!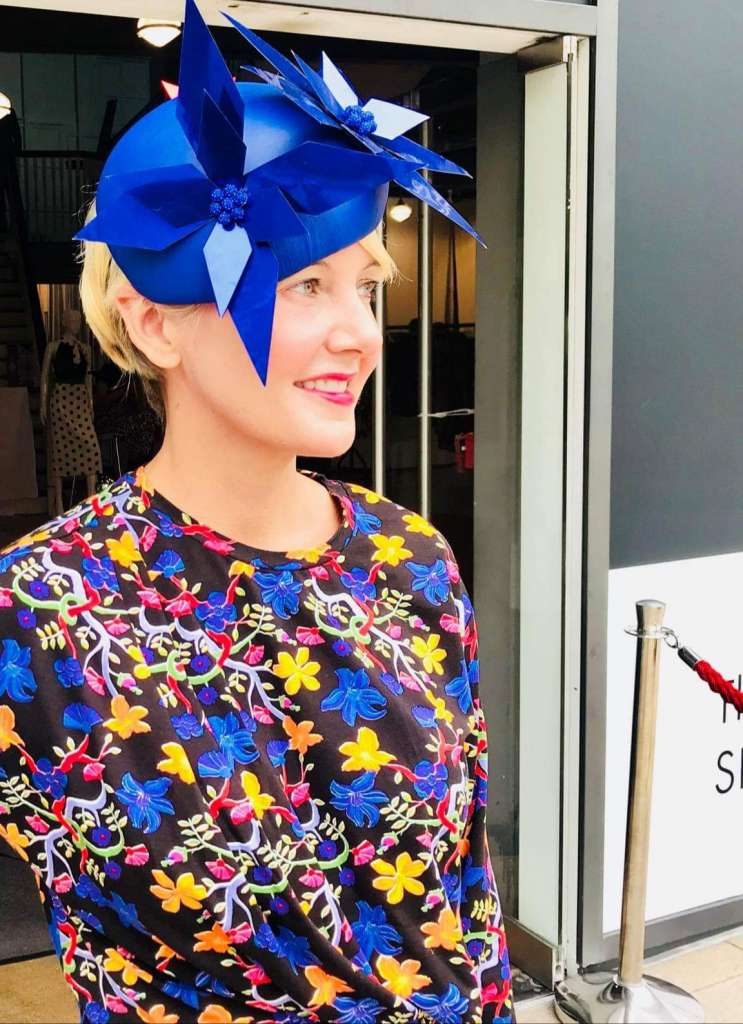 TELL US ABOUT YOUR BACKGROUND.
I'm a self-taught milliner. From as far back as I can remember, I have always had a love of fashion, experimenting with knitting and sewing. Millinery has become my first passion. I love that I can be as creative as I feel and transform that feeling into a wearable hat.
WHAT WAS THE MOST DEFINING MOMENT OF YOUR CAREER?
It would have to be winning Millinery Designer of the Year at the Irish Fashion and Innovation Awards in March 2019. It was a huge honour to be recognized for my work amongst inspirational and successful business persons.
WHAT'S YOUR AMBITION FOR YOUR BRAND?
To gain as much exposure as I possibly can and reach out to as many ladies as possible to share my creations.
HOW WOULD YOU DEFINE THE HEART AND SOUL OF YOUR BRAND?
To be recognized as a unique milliner who has a passion for making clients happy and feel beautiful, and that more fashion lovers will come to choose me to help create their perfect hat. 
WHERE DOES YOUR BRAND NAME COME FROM? 
It's my full name.
YOUR DREAM COLLABORATION?
I am living the dream at the moment by getting the opportunity to display my creations in the iconic Brown Thomas in Grafton Street for CREATE 2019.
WHAT INSPIRES YOU ABOUT THE WEARINGIRISH MOVEMENT?
It would have to be the strong, fierce woman behind this movement—Margaret Molloy. She has such dedication and a love of Irish designers, and she is helping expand designer awareness each day, both at home in Ireland and abroad.
WHO DO YOU WANT TO WEAR IRISH?
Everyone should wear and appreciate Irish designs as there is always a beautiful story of dedicated craft and passion behind every creation.
TAKE US THROUGH YOUR CREATIVE PROCESS?
I have an idea and start by blocking the base; I hand sew, wire and cover in chosen fabrics. I create the centerpiece using all types of tools and materials. For example, my recent collection in Brown Thomas was created using recycled cable ties. I always try to think outside the box.   
HOW DOES A SENSE OF PLACE INFORM YOUR CREATIVE PROCESS— SPECIFICALLY IRELAND?
Ireland is full of beauty and quirkiness, and it's very inspiring to me. I am very proud of my Irishness, and the beauty Ireland has to offer. I like to create this in my hats. It can be from everyday objects to remarkable landscape designs to plants and flowers.
WHAT DOES BEING IRISH MEAN TO YOU AND IN WHAT WAY HAS IT INFLUENCED YOUR CREATIONS? 
I am very proud to be an Irish woman and an Irish designer; I feel incredibly fortunate and thankful that I was born with a creative and sometimes complicated mind.
MOST COVETED ITEM IN YOUR COLLECTION?
It would have to be my "An Awen" cable ties collection.  It was a very proud moment seeing my collection win the Irish Fashion Innovation Awards 2019 Millinery Category by the use of the humble cable tie.
THREE THINGS YOU CAN'T LIVE WITHOUT?
My work, my mobile phone and my blusher brush.
YOUR GO-TO STYLING TRICK? 
It would have to be my only ever extravagant gift to myself, my bifocal Prada glasses to hide my hardworking tired eyes!
TELL US ONE THING ABOUT YOURSELF THAT PEOPLE SHOULD KNOW THAT I DIDN'T ASK.
I can play Salley Gardens on the fiddle.