WEARINGIRISH showcases top designers/brands from Ireland.
In this series, meet the designers and hear their stories. Here Margaret chats with Catriona Hanly.
Visit catrionahanly.com for more!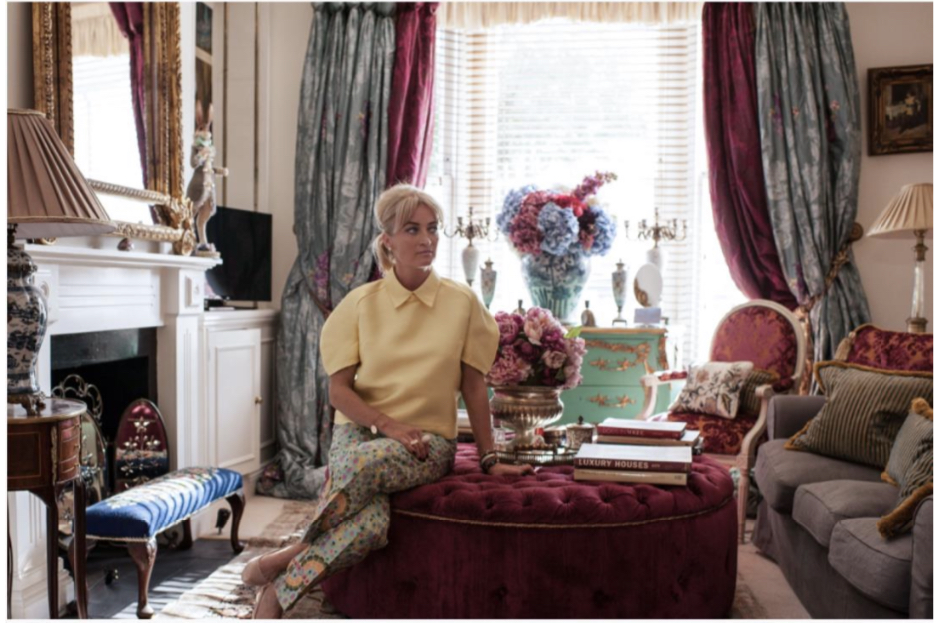 TELL US ABOUT YOUR BACKGROUND.
I established a jewellery line in over 350 boutiques throughout Ireland and the UK. When I was in the US, I went on to deliver interior projects in leading hotels and private residences, from which I gathered experience and went on to the fashion world, creating timeless heritage pieces.
WHAT WAS THE MOST DEFINING MOMENT OF YOUR CAREER?
When I won the VIP Style Award for best jewellery in all of Ireland. Also, in 2018, I was named Designer of the Year at The Rose of Tralee Fashion Show.
WHAT'S YOUR AMBITION FOR YOUR BRAND?
To grow my brand globally and to expand the collection further; I would love to do a luxury kidswear range.
HOW WOULD YOU DEFINE THE HEART AND SOUL OF YOUR BRAND?
Unique timeless statement pieces with signature collars and cuffs, designed in luxurious fabrics.
WHERE DOES YOUR BRAND NAME COME FROM? 
Since my heart and soul goes into the designs, the brand is my name.
YOUR DREAM MUSE? WHY?
Amal Clooney—I love that she embodies such style and elegance so effortlessly, from her workwear as a busy career woman to her evening wear in front of LA's glitterati.
YOUR DREAM COLLABORATION?
I have great admiration for Bergdorf Goodman as a retailer, so I would love to collaborate with them to have a collection in their store.  
WHAT INSPIRES YOU ABOUT THE WEARINGIRISH MOVEMENT?
It's impressive to see so many talented Irish men and women get a platform to showcase their designs.
WHO DO YOU WANT TO WEAR IRISH?
I'd love to see Cate Blanchett wear Irish because of her timeless elegance and Jennifer Lawrence, embracing her Irish roots!
TAKE US THROUGH YOUR CREATIVE PROCESS?
Fabrics set my world on fire! I'm inspired by the rich and luxurious fabrics that I incorporate into my collections.  I'm inspired creatively by many things: fashion past and present, travel, art. However, it is when I see the fabric that my creative journey takes off.
HOW DOES A SENSE OF PLACE INFORM YOUR CREATIVE PROCESS— SPECIFICALLY IRELAND?
My Irish roots and time living here have inspired my collections, especially the tweeds. You can't get much more Irish than that fabric. I grew up in the countryside around Irish castles and manor estates, so this influence is very prevalent in my designs. 
WHAT DOES BEING IRISH MEAN TO YOU AND IN WHAT WAY HAS IT INFLUENCED YOUR CREATIONS? 
As I've traveled so much, I feel like a citizen of the world. However, I can't deny the strong influence my home country has on the look and feel of my collections. 
MOST COVETED ITEM IN YOUR COLLECTION?
I love the suits; they are streamlined, edgy, and fun. 
THREE THINGS YOU CAN'T LIVE WITHOUT?
My phone, my pearl earrings, and a spritz of Hermes perfume before I go out. 
YOUR GO-TO STYLING TRICK? 
An elegant silk scarf (preferably Hermes) lifts an outfit to the next level.
TELL US ONE THING ABOUT YOURSELF THAT PEOPLE SHOULD KNOW THAT I DIDN'T ASK.
If I weren't a fashion designer, I'd love to be a race car driver!