WEARINGIRISH showcases top designers/brands from Ireland.
In this series, meet the designers and hear their stories. Here Margaret chats with Debbie Millington. 
Visit debbiemillington.com for more!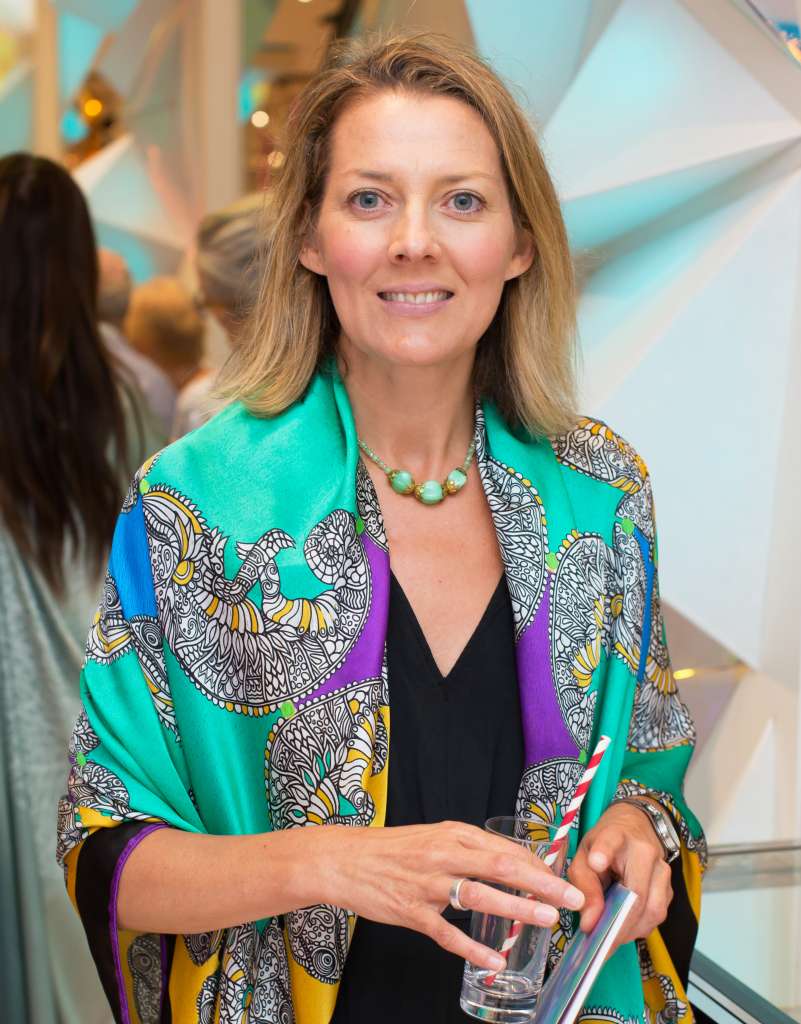 TELL US ABOUT YOUR BACKGROUND.
After graduating from the National College of Art and Design with a degree in fashion, I worked as a style assistant in Brown Thomas before moving to London to work for a TV production company, The New Renaissance. It was in Australia that I began assisting in the costume departments for films, such as Star Wars and Moulin Rouge. Now I juggle motherhood, travel and movie making, continuing my love for costume design in the film world.
WHAT WAS THE MOST DEFINING MOMENT OF YOUR CAREER?
Costume designer Colleen Atwood bought some of my scarves for Fantastic Beasts. Also, celebrities Paul Weller, Anna Friel, Jude Law, film director Reed Morano, costume designer Stranger Things, Malgosia Turzanska and Bond producers have various designs from my collections. Another client, who is a big fan of the brand, told me she would keep my scarf with her Hermés collection as an heirloom piece, to pass down to her daughters. 
WHAT'S YOUR AMBITION FOR YOUR BRAND?
I hope that over time, the brand will gain international recognition and become a successful household name; the go-to scarf brand of choice, famed for unique designs, vibrant colours, and luxuriously soft silk. I hope to see my scarves selling in Liberty London, Harrods and Barneys New York.
HOW WOULD YOU DEFINE THE HEART AND SOUL OF YOUR BRAND?
The scarves are inspired by a wonderland of personal travel photography and experiences from around the world, injecting each scarf with vibrant exotic colour and pattern, that promise to boost your mood and complexion while making you look and feel a million dollars.
WHERE DOES YOUR BRAND NAME COME FROM? 
The brand name comes from the brand founder and designer, Debbie Millington.  
YOUR DREAM MUSE? WHY?
I have always adored Iris Aphel, her sense of dress and the way she wears colour. At 97 she is still a force of nature. As she says "Life can be dull but you can always have fun with colour when you dress". She is so confident in what she wears and her combined use of pattern, colour and texture within the one outfit is simply outstanding!
YOUR DREAM COLLABORATION?
I would love to work with Timorous Beasties the surreal and provocative wallpaper design company or Chinese couture designer Guo Pei, whose extravagant embroideries and larger than life costumes are unrivalled sculptural works of art.
WHAT INSPIRES YOU ABOUT THE WEARINGIRISH MOVEMENT?
WearingIrish offers a sense of community for designers and a unified collective strength, bringing together creatives from all walks of life. They open doors and offer opportunities to designers to showcase their brands on a more global stage, taking the idea of what is "Irish" out of the traditional sense and benching Irish products in a more contemporary forward thinking platform, which I love.
WHO DO YOU WANT TO WEAR IRISH?
I would like more Irish people to wear and show more support for local designers and crafts. There is such a wide variety of high quality home grown products here in Ireland, from woven textiles, pottery, ceramics, fashion, accessories, homeware and soft furnishings. The choice is endless and there is little to no need to look abroad when gifting.
TAKE US THROUGH YOUR CREATIVE PROCESS?
I do not follow trends or seasons and produce two new collections a year. Design ideas for me generally start from a travel memory or photograph, which I then draw or use directly to create a repeat pattern in Photoshop. I often overlay many photographic images to create a layered design within the square. I then send the finished files to a highly reputable UK based print company, where they sustainably print ( using non toxic Azo Free inks) , cut, hand roll and sew each individual silk scarf. I have chosen to print in the UK as I can carefully monitor production and know that all work meets strict EU quality and human rights standards. No tiny hands are used in the making of any of my silk scarves and they are not mass produced in China. 
HOW DOES A SENSE OF PLACE INFORM YOUR CREATIVE PROCESS— SPECIFICALLY IRELAND?
Ireland continually inspires my work. I love to visit botanical gardens and stately homes for inspiration, drawing on ideas from flowers, trees, wildlife, nature, interior decor, furnishings and architecture. The magnificent landscapes and seascapes and the diversity of Irish culture, music and fine art painting provide an endless source of inspiration for me.
WHAT DOES BEING IRISH MEAN TO YOU AND IN WHAT WAY HAS IT INFLUENCED YOUR CREATIONS? 
I am always proud to be Irish travelling abroad, everyone always loves the Irish and welcome you with open arms. Being Irish has opened many doors for me and allowing me to visit and enjoy so many countries, people being overly generous with their time. Eventhough I have always cherished my traditional heritage, I am keen however to produce a product that offers a more contemporary twist on the Irish scarf.
MOST COVETED ITEM IN YOUR COLLECTION?
The Jellyfish design was inspired by the aquatic pulsating jellyfish I witnessed in the West of Ireland. It is such an unusual print but one of my best sellers, the combination of the elegant black and punchy orange border, with highlights of gold in the tentacles, is truly indulgent in sumptuous silk. Also the Zebra print, inspired by an overland safari trip in the African Serengeti, is an iconic design. Exquisite in all the colour ways – pink, red, green and citrus yellow, it is a dramatic statement piece sure to turn heads. 
THREE THINGS YOU CAN'T LIVE WITHOUT?
My camera, fun, family and friends.
YOUR GO-TO STYLING TRICK? 
Have plenty of block colours in your wardrobe and let your silk scarf add the pattern, colour and dramatic touch to your ensemble, letting the vibrant colours of the scarves naturally boost your complexion and enhance your skin tone and features.
TELL US ONE THING ABOUT YOURSELF THAT PEOPLE SHOULD KNOW THAT I DIDN'T ASK.
I struck it lucky gold panning in the gold rush town of Dawson City, Alaska.