WEARINGIRISH showcases top designers/brands from Ireland.
In this series, meet the designers and hear their stories. Here Margaret chats with Geraldine O'Meara.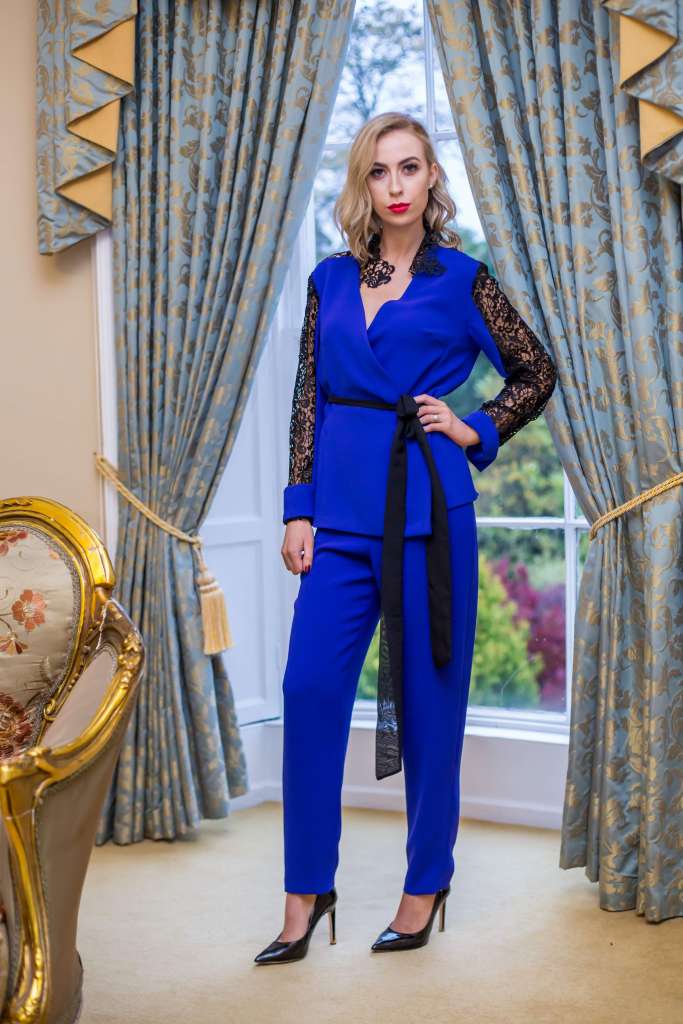 TELL US ABOUT YOUR BACKGROUND.
I was born in Manchester, England to Irish parents, both from Co. Offaly. I always loved Ireland and moved to Offaly on my own when I was 19, to set up a dressmaking business. I am a self-taught designer, sewing from an early age and gaining experience in design and manufacture through the years. The business has evolved, and my label Geraldine O'Meara Designs is now established in Crinkle, Birr, Co. Offaly.
WHAT WAS THE MOST DEFINING MOMENT OF YOUR CAREER?
There have been a few. I designed outfits for the former Taoiseach's wife, Mary Cowen, on her St. Patrick's Day visit, to the White House, two years in a row, to meet President Obama and the First Lady.
My designs have also been worn on the red carpet in Hong Kong at the premiere of Transformers 4 movie, and I have had the opportunity of dressing many Irish TV celebrities for red carpet events—Kathyrn Thomas, Claire Byrne, Lucy Kennedy, Lorraine Keane, and Laura Woods.
WHAT'S YOUR AMBITION FOR YOUR BRAND?
To continue designing and making quality bespoke dresses for special occasions, but also to expand my ready-to-wear collection.
HOW WOULD YOU DEFINE THE HEART AND SOUL OF YOUR BRAND?
My brand is based on creating well-made occasion wear for the modern woman—classic designs with a twist and a touch of elegance.
WHERE DOES YOUR BRAND NAME COME FROM? 
My own name, Geraldine O'Meara.
WHO IS YOUR DREAM MUSE? WHY?
My dream muse would be Kate, the Duchess of Cambridge, who epitomises pure elegance and style. She is a classic beauty, perfect for wearing my day dresses and evening gowns.
YOUR DREAM COLLABORATION?
I would love to collaborate on an evening wear collection with Elie Saab, as he uses the most beautiful fabrics and laces, and knows how to do red carpet looks so well.
WHAT INSPIRES YOU ABOUT THE WEARINGIRISH MOVEMENT?
The #WearingIrish movement has grown rapidly through social media, creating a fantastic platform for Irish designers, placing them in the global market and showing off the vast talent that is available in Ireland.
WHO DO YOU WANT TO WEAR IRISH?
Everyone, especially the Irish people abroad, who can continue to showcase the exceptional talent and creativity that Ireland has to offer.
TAKE US THROUGH YOUR CREATIVE PROCESS?
Each creation starts with the fabric rather than a sketch. I might have a design in mind, but it is influenced by the drape of the material or the design and quality of the lace I'm using. The finished result is often completely different from my original design. The creative process can be straightforward, but it usually takes a few detours to achieve the desired look.  
HOW DOES A SENSE OF PLACE INFORM YOUR CREATIVE PROCESS— SPECIFICALLY IRELAND?
Being able to work in Ireland, the country I love, designing and producing my collections is of great importance to me. I am lucky enough to work from my home studio in rural Ireland away from the madness of the city, so creativity is more free flowing with fewer interruptions. Working from home means, I am always thinking of new ideas and designs and can work at any time of the day (and often the night).
WHAT DOES BEING IRISH MEAN TO YOU AND IN WHAT WAY HAS IT INFLUENCED YOUR CREATIONS? 
I am proud to be Irish, working in a country I love, that is full of heritage, history, and amazing people and places, all of which inspire me to create classic designs.
MOST COVETED ITEM IN YOUR COLLECTION?
The "Elaine" red and black coat. It has a timeless, elegant design and can be worn over a simple classic dress.
THREE THINGS YOU CAN'T LIVE WITHOUT?
Family, scissors, and a sewing machine.
YOUR GO-TO STYLING TRICK? 
Keep it simple, elegant, and classic.
TELL US ONE THING ABOUT YOURSELF THAT PEOPLE SHOULD KNOW THAT I DIDN'T ASK.
I am married to Denis and have two adult children, Laura and Dermot, my greatest achievements in life.