WEARINGIRISH showcases top designers/brands from Ireland.
In this series, meet the designers and hear their stories. Here Margaret chats with Karen Kirby of Kirkbee Designs.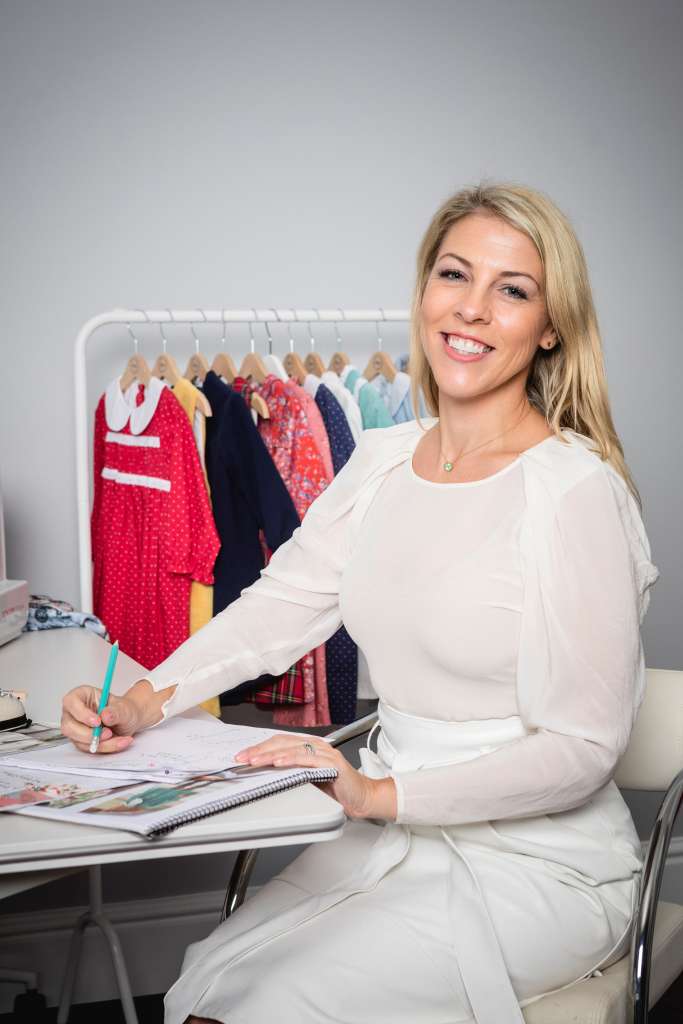 TELL US ABOUT YOUR BACKGROUND.
I graduated from the Grafton Academy in 2000 with an honors diploma. Upon graduating, I went straight to work in one of the largest fashion houses in Ireland, where I stayed for seven years going from intern to head of design. Within the role of head womenswear designer, I led a large team and travelled extensively within this role. Travel has been my main catalyst in opening my mind creatively and a massive influence on launching Kirbee.
WHAT WAS THE MOST DEFINING MOMENT OF YOUR CAREER?
The most defining moment of my career was launching into Brown Thomas in Dublin and Cork in January 2019. Sitting alongside international brands in such a premium store is a dream come true.
WHAT'S YOUR AMBITION FOR YOUR BRAND?
My main ambition is to grow the brand internationally and have Kirbee as the premium childrenswear range in the Irish market.
HOW WOULD YOU DEFINE THE HEART AND SOUL OF YOUR BRAND?
Kirbee is all about a feeling of nostalgia and creating memories; the beauty of childhood innocence.
WHERE DOES YOUR BRAND NAME COME FROM? 
My maiden name is Karen Kirby. My mum was a talented tailor and seamstress—that's were my love of design came from. The brand name is a nod to my family.
WHO IS YOUR DREAM MUSE? WHY?
Princess Charlotte. I absolutely love the way Kate Middleton dresses her children in this very innocent, childlike way. It's magical, and the portraits she has of her children are timeless.
YOUR DREAM COLLABORATION?
My dream collaboration would be with a company like Foxford. I adore what they have achieved with their brand, making it commercial while still honoring the strong roots of their heritage.
WHAT INSPIRES YOU ABOUT THE WEARINGIRISH MOVEMENT?
Ireland is a magical land of creativity; an island of artists. Wearing Irish is a fantastic way of showing this to the world.
WHO DO YOU WANT TO WEAR IRISH?
Everybody! Like Spain is known for its excellent wine, tapas, and sunshine, why shouldn't Ireland be known for beautifully made clothes?
TAKE US THROUGH YOUR CREATIVE PROCESS?
I usually start with my colour palette for that season, which can be influenced by something in nature to a colour combination I have seen in a Beatrix Potter book, for example. Travel is also a significant influence on my collections. I also try to inject new shapes into every season's collection, just like I did when I was a womenswear designer. When colours are finalized, I work on incorporating them into beautiful prints.
Cotton is the main fabric used in my creations as it is the most natural fibre to have against a child's skin. My coats are made from a soft mouflon fabric, and I produce the coats in the collection's main colours, so they will coordinate with my dresses. Every season I add new silhouettes with my coats, and they really have become the signature of the Kirbee brand.
HOW DOES A SENSE OF PLACE INFORM YOUR CREATIVE PROCESS— SPECIFICALLY IRELAND?
I travelled extensively as a womenswear designer and noted how beautifully the children dressed in European countries like Spain, France, and Italy. I wanted to create this beautiful, timeless way of dressing children, taking my influence from Ireland and Irish culture. It has become hugely important for Irish people to support Irish design and Irish industry.
WHAT DOES BEING IRISH MEAN TO YOU AND IN WHAT WAY HAS IT INFLUENCED YOUR CREATIONS? 
Family is everything to me, and this is the core of Kirbee, deep-rooted in my great-grandfather having his own tailoring business in Dublin city. Living and being born in Ireland has given me a great sense of belief, belief that we as a country can be independent and take inspiration from our beautiful land. We are submerged in beauty, craft, and history; we are a country with amazing working fabric mills from the depths of Donegal tweed to Foxford in Mayo. Fashion is back, and craftsmanship is relevant again. Wearing Irish is such an incredible platform to expose the world to the talent in our small but wonderful country.
MOST COVETED ITEM IN YOUR COLLECTION?
Our coats. We have a full range of dresses, pinafores, blouses, but it is our coats that signifies what our brand stands for—classic pieces with a contemporary twist.
THREE THINGS YOU CAN'T LIVE WITHOUT?
My children, sunglasses, and my heart shaped Chupi earrings.
YOUR GO-TO STYLING TRICK? 
Always pare it back. Less is definitely more.
TELL US ONE THING ABOUT YOURSELF THAT PEOPLE SHOULD KNOW THAT I DIDN'T ASK.
I grew up in North County Dublin by the sea. This is my most special place, looking out to the sea and knowing that as Irish people, we are united on this beautiful island.