WEARINGIRISH showcases top designers/brands from Ireland.
In this series, meet the designers and hear their stories. Here Margaret chats with Margaret O'Rourke of MoMuse.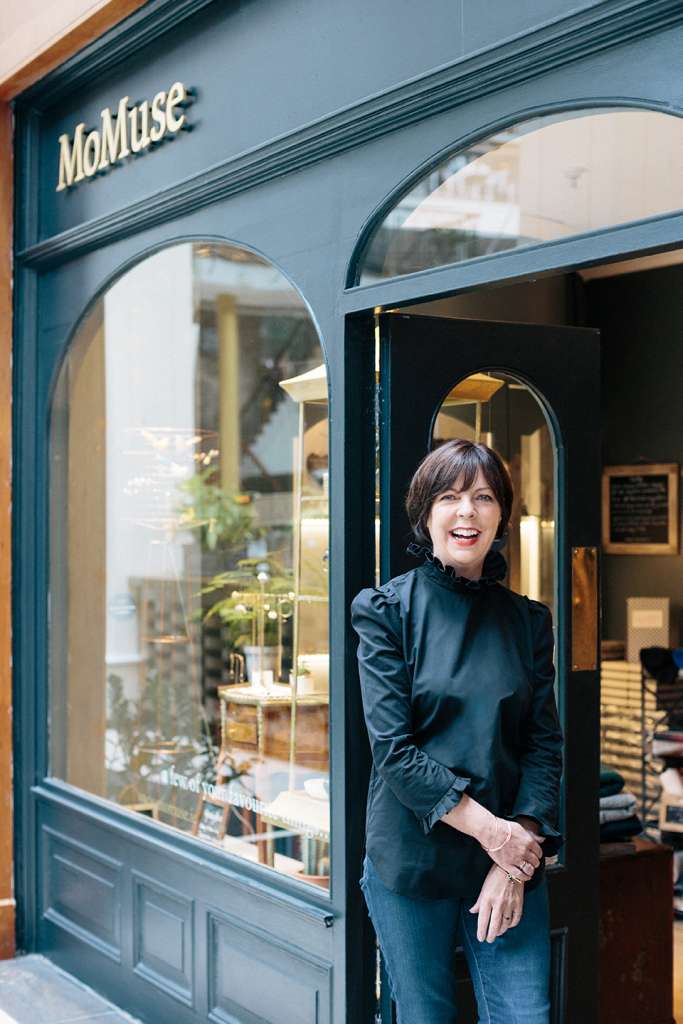 TELL US ABOUT YOUR BACKGROUND.
Fifteen years ago, I started to sell some pieces on Cow's Lane, Temple Bar. It wasn't until MoMuse that I found an outlet for the creativity I always knew I had. We began in 'The Loft,' a market-style space for independent designers, before opening the same standalone store we still call home. 
WHAT WAS THE MOST DEFINING MOMENT OF YOUR CAREER?
July 2017, when MoMuse was featured in the New York Times as one of "Five Places to Shop in Dublin." The article was hugely validating for us as an independent business and introduced us to an international customer base who still shop at MoMuse today. 
WHAT'S YOUR AMBITION FOR YOUR BRAND?
As long as we continue to adorn our customers in simple, timeless jewellery that become their most valued everyday pieces, we're happy!
HOW WOULD YOU DEFINE THE HEART AND SOUL OF YOUR BRAND?
Simple, fine, and elegant jewellery, which is something we come back to time and time again. 
WHERE DOES YOUR BRAND NAME COME FROM? 
Initially, I had thought about calling the brand 'Muse,' but a friend recommended adding a personal element. My full name felt too long to use, so I decided on 'Mo.' It's a name many of my closest family and friends would call me. In Irish, it means 'my.'
WHO IS YOUR DREAM MUSE? WHY?
For me, my customers are my muses, but I'm also inspired by Julianne Moore and our very own Saoirse Ronan.
YOUR DREAM COLLABORATION?
Alexander McQueen—I'm a long-time wearer—or Simone Rocha. Both brands have an ethereal quality that I feel marries well with MoMuse.
WHAT INSPIRES YOU ABOUT THE WEARINGIRISH MOVEMENT?
WearingIrish has fostered a great sense of community and support for small businesses and Irish designers.
WHO DO YOU WANT TO WEAR IRISH?
With the wealth of talent that exists within the Irish design community, I feel that everyone should have a piece of Irish design in their wardrobe. We have everything here from luxurious cashmere brands, such as Eilis Boyle to the handmade bespoke couture of Helen Cody and the tailored genius of Peter O'Brien.
TAKE US THROUGH YOUR CREATIVE PROCESS?
Travel and people inform my process. I have a small creative studio in the heart of Dublin city where I sketch and design; it's a very peaceful space. Early on, we designed pieces that we continue to produce today: our fine stacking rings, simple gold disc necklace, and delicate stud earrings. Focusing on what we and our customers and we love and staying true to this is an integral part of this creative process. 
HOW DOES A SENSE OF PLACE INFORM YOUR CREATIVE PROCESS— SPECIFICALLY IRELAND?
My childhood in Killarney gave me an appreciation for the outdoors. I spent my summers exploring Muckross House and Gardens, where my Dad worked. Today, I'm fortunate to live near Dublin's Phoenix Park. It gives me a tremendous sense of space and freedom each time I visit and reboots my creativity if I'm ever in need of it. 
WHAT DOES BEING IRISH MEAN TO YOU AND IN WHAT WAY HAS IT INFLUENCED YOUR CREATIONS? 
Every time I travel, I'm struck by the reception we Irish people receive abroad—we're seen as a nation of genuine and caring people (who tend to talk a lot!). My pieces are simple and charming, and I think you could say the same thing about the Irish character. 
MOST COVETED ITEM IN YOUR COLLECTION?
Our classic 9kt gold interlinked circle necklace is still one of our most coveted pieces. For me, it epitomises MoMuse—minimal, simple, and enduring. The two circles symbolise eternal support and unconditional love.
THREE THINGS YOU CAN'T LIVE WITHOUT?
I cannot live without travel, friends & family, and Dublin humour—particularly my husband's!
YOUR GO-TO STYLING TRICK? 
A classic black look with red/coral lipstick and fine jewellery.
TELL US ONE THING ABOUT YOURSELF THAT PEOPLE SHOULD KNOW THAT I DIDN'T ASK.
I come from quite a musical family and got to perform in New York's Carnegie Hall with Jury's Irish Cabaret. I was still in school, so it was incredibly exciting.