WEARINGIRISH showcases top designers/brands from Ireland.
In this series, meet the designers and hear their stories. Here Margaret chats with Natasha Sherling.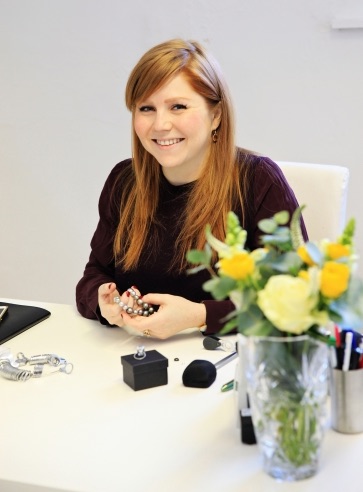 TELL US ABOUT YOUR BACKGROUND.
I have a business degree from Trinity College, but after graduating I followed my love of design to magazines; I worked as a fashion editor for several years, but the draw of jewellery was too strong! I moved to New York to study gemmology before returning home, where I continue to source the most beautiful gemstones for my collections.
WHAT'S YOUR AMBITION FOR YOUR BRAND?
I have been so lucky that my pieces have been used to celebrate the most beautiful moments—marriages, babies, promotions and even a trip to the Oscars. All I can ask is for that to continue—for me, it will always be about the story at the heart of the jewellery.
WHERE DOES YOUR BRAND NAME COME FROM? 
It's my name—there's such an essential element of trust with fine jewellery, I have always believed that it's imperative to have my name over the door.
WHO IS YOUR DREAM MUSE? WHY?
Ashley Olsen accessorises like no one else; her appreciation for antique and contemporary jewellery is evident.
WHAT INSPIRES YOU ABOUT THE WEARINGIRISH MOVEMENT?
I have always maintained that we have some of the best creative talents in Ireland. The WearingIrish movement is key to shining a spotlight not just on the makers but on the stylish people who choose to wear their work.
TAKE US THROUGH YOUR CREATIVE PROCESS?
In terms of bespoke work, everything starts with the stones, which I then design around. Depending on the intricacies of the piece, we go between sketches, CADs and even 3D prints to try on! Having a team of goldsmiths here in Dublin is imperative to my process; nothing beats face-to-face discussions when it comes to jewellery details.
HOW DOES A SENSE OF PLACE INFORM YOUR CREATIVE PROCESS— SPECIFICALLY IRELAND?
I find Ireland to be quiet but majestic. This sense of elegance is what runs through my work; perhaps unassuming at first, but ultimately powerful—the best gemstones, weighty gold and clean lines for a sense of polish. Our heritage, our wonderful tradition of storytelling—it all feeds into my work, which is designed to be multigenerational, carrying new stories within each piece. I always say jewellery tells our story better than anything else we could choose to wear.
MOST COVETED ITEM IN YOUR COLLECTION?
It has to be my first morganite and diamond ring. It was a bespoke piece that featured a six-carat Asscher cut morganite surrounded by diamonds set in platinum. I fell in love with morganites while studying gemmology—and I was one of the first in Ireland to use them regularly in my collections. I remember being told I'd never sell the pieces as no one knew what morganite was! Now they have become so popular, and I get so many requests for them. That original ring was made for Brown Thomas and appeared in their Christmas windows and ad campaigns, but I've created so many others based on the original design—with different centre stones too, including sapphires, peridot, and diamonds.
THREE THINGS YOU CAN'T LIVE WITHOUT?
My family, gold bangles and cashmere.
YOUR GO-TO STYLING TRICK? 
Pearl earrings are an instant pick-me-up! If your skin isn't looking great, pearls are a must—they bounce light back onto complexions, giving an added glow.
TELL US ONE THING ABOUT YOURSELF THAT PEOPLE SHOULD KNOW THAT I DIDN'T ASK.
I love the sea and would swim in it every day if I could—although when it's a bit too cold to get in, a pleasant walk along the shore is the perfect tonic.