WEARINGIRISH showcases top designers/brands from Ireland.
In this series, meet the designers and hear their stories. Here Margaret chats with Yvonne Kelly.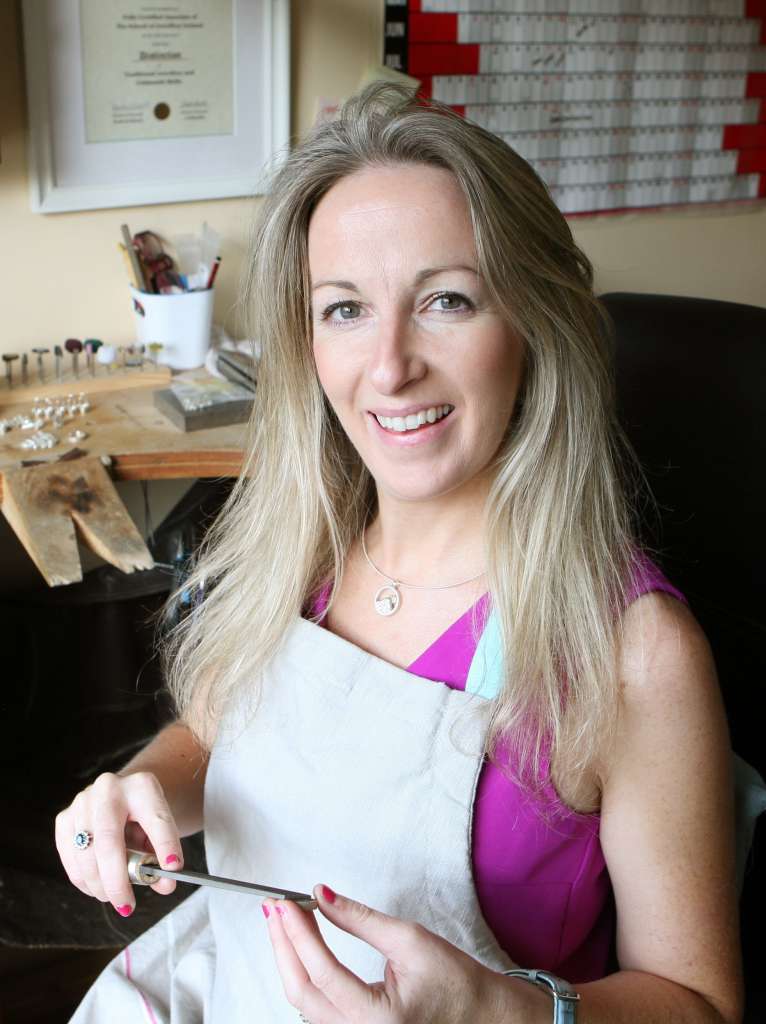 TELL US ABOUT YOUR BACKGROUND.
I was born in Co. Cavan and studied international languages in NUI, Galway. I worked in the airline industry and advertising before finally following my heart to study to become a professional jeweller. After graduating from college with a distinction, I set up my jewellery brand and have never looked back!
WHAT WAS THE MOST DEFINING MOMENT OF YOUR CAREER?
Being asked to design a nautical-themed wedding band for a Hollywood celebrity!
WHAT'S YOUR AMBITION FOR YOUR BRAND?
To be an internationally successful brand and to continue making memorable pieces of jewellery that connect with people and make them happy. 
HOW WOULD YOU DEFINE THE HEART AND SOUL OF YOUR BRAND?
The heart and soul of my brand is wearable art that has love, good humour, and quality Irish craftsmanship at its core.
WHERE DOES YOUR BRAND NAME COME FROM? 
My brand name is my name, Yvonne Kelly. The surname Kelly is a popular Irish name, and I'm very proud of my heritage.
WHO IS YOUR DREAM MUSE? WHY?
I'd have to say, Meryl Streep. I admire her talent, integrity, style, and sense of fun!
YOUR DREAM COLLABORATION?
My dream collaboration would be with Lady Gaga as I love her quirkiness, and she certainly doesn't let boundaries limit her imagination!
WHAT INSPIRES YOU ABOUT THE WEARINGIRISH MOVEMENT?
The WearingIrish movement is an incredible platform for telling the stories of talented Irish designers and craftspeople and helping expose their brands to an international audience.
WHO DO YOU WANT TO WEAR IRISH?
Everyone who appreciates quality and unique style.
TAKE US THROUGH YOUR CREATIVE PROCESS?
When making jewellery, I like to take an unconventional approach. I am inspired by ordinary things and giving them a new life or dimension in metal form. My flip flop collection is an example–even though we don't get to wear flip flops much in Ireland, you can always wear one around your neck!
HOW DOES A SENSE OF PLACE INFORM YOUR CREATIVE PROCESS— SPECIFICALLY IRELAND?
Ireland and its people are a constant source of inspiration in my work. This land is bursting with creative talent and to be surrounded by such talent is a privilege. At the heart of the Irish psyche is good humour, charm and creative abundance; I endeavour to capture this in my work. 
WHAT DOES BEING IRISH MEAN TO YOU AND IN WHAT WAY HAS IT INFLUENCED YOUR CREATIONS? 
I am proud to call Ireland my home, and I designed the 'House of Love' pendant as a symbol of the importance—of having a place to call home, be it a physical place, building or simply a feeling of being 'home.'
MOST COVETED ITEM IN YOUR COLLECTION?
My best selling 'Buckets of Love' pendant—it is a reminder to me every day to fill it up with love, spread the love and never empty it!
THREE THINGS YOU CAN'T LIVE WITHOUT?
Love, laughter, and strong coffee!
YOUR GO-TO STYLING TRICK? 
Keep it simple and wear a smile with every outfit.
TELL US ONE THING ABOUT YOURSELF THAT PEOPLE SHOULD KNOW THAT I DIDN'T ASK.
I climbed Africa's highest mountain Mount Kilimanjaro (for my sins!), but it taught me the meaning of resilience and never giving up!