WEARINGIRISH showcases top designers/brands from Ireland.
In this series, meet the designers and hear their stories. Here Margaret chats with Julie Danz of Juvi Designs.
Visit juvidesigns.com for more!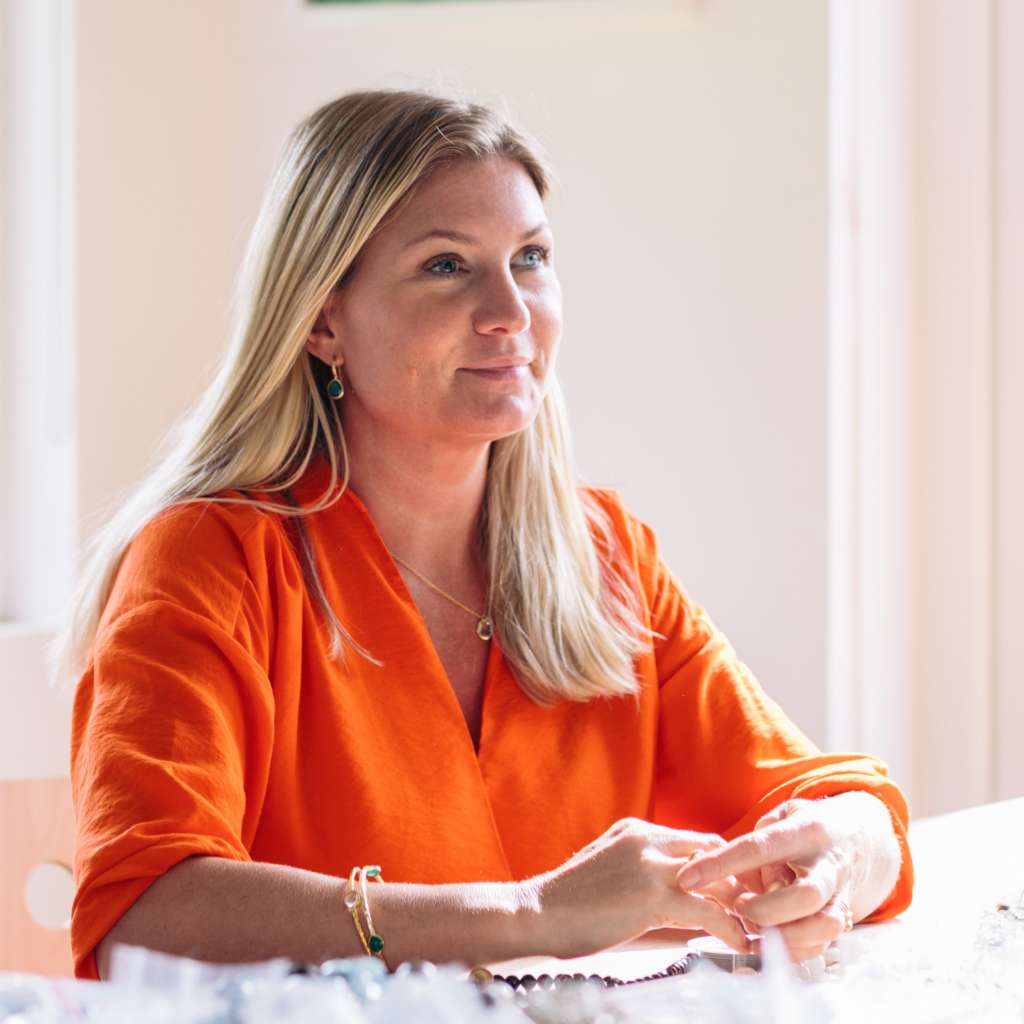 TELL US ABOUT YOUR BACKGROUND.
We are a husband and wife duo.  After studying art history in UCD Dublin, I moved to New York City to work in the world of interior design. Vincent is a talented silversmith who honed his skills in Mexico. Having both returned to Ireland, we set up Juvi Designs from our living room in Rathgar, Dublin in 2006.
WHAT WAS THE MOST DEFINING MOMENT OF YOUR CAREER?
Winning "Best Accessory Designer" at Dublin Fashion Week was a big break for us and allowed us to open a pop-up at Dublin's most prestigious department store, Brown Thomas.  This was the catalyst for a change in our business and our profile.
WHAT'S YOUR AMBITION FOR YOUR BRAND?
To be a world-renowned destination brand for anyone looking something special for themselves or as a gift for a loved one.
HOW WOULD YOU DEFINE THE HEART AND SOUL OF YOUR BRAND?
Storytelling is at the heart of all we do. Jewellery is such a personal possession, and everyone has a story reflecting how they came to own a specific piece, the memory behind it or what it symbolizes. This is synonymous with the Irish charm; everyone has a story to tell.  Our tag line is "each piece is a story brought home" – the creation of each piece is guided by our story, but we are most inspired by the stories the wearer brings to their special piece.
WHERE DOES YOUR BRAND NAME COME FROM? 
Juvi is exactly who we are—Ju from Julie; Vi from Vincent. We are a partnership, and we both bring our strengths, inspiration, style, and vibe to every collection. 
WHO IS YOUR DREAM MUSE? WHY?
I love Helena Christensen.  She is naturally beautiful and emits that effortless boho vibe that inspires us. She is a fabulous photographer and oozes creativity. 
YOUR DREAM COLLABORATION?
Philip Treacy and Temperley London always inspire me. Their flair for colour, femininity, intricate craft, and the inclusion of natural elements like feathers, leaves, and fine materials lures me in every time.
WHAT INSPIRES YOU ABOUT THE WEARINGIRISH MOVEMENT?
I love that the WearingIrish movement is dedicated to advocating for Irish craftspeople, recognizing the craft, ethos, and beauty created and inspired by our little island.  We may be a small country, but we are competing on a global stage.
WHO DO YOU WANT TO WEAR IRISH?
I think everyone who appreciates craft, storytelling, heritage, and design should wear Irish.
TAKE US THROUGH YOUR CREATIVE PROCESS?
Travel is always the starting point for our creative process. We travel the world searching for beautiful, ethically sourced gemstones, and I still spend the return flight sketching.  When we return to our studio, Vincent and I work together to bring my sketches to life, experimenting with finishes, different gemstones, and feeling out the story we want the collection to tell. 
HOW DOES A SENSE OF PLACE INFORM YOUR CREATIVE PROCESS— SPECIFICALLY IRELAND?
We are so lucky that our studio is nestled at the foothills of the Dublin Mountains. From our workshop, our views are of the rugged and ever-changing landscapes as the seasons change. As we move into autumn and winter seasons, I feel the pull of darker gemstones like garnet and onyx, yet as the brighter evenings roll around, I am inspired to work with exotically colored stones like aqua chalcedony and green tourmaline.
WHAT DOES BEING IRISH MEAN TO YOU AND IN WHAT WAY HAS IT INFLUENCED YOUR CREATIONS? 
I think Irish people have an affinity with nature and the wilderness. Our little island is always affected by the elements, and likewise, for such a small part of the world, the Irish are known to be forces of nature.  This is reflected in our jewellery—we work directly with gemstones created and forged naturally from the Earth. 
MOST COVETED ITEM IN YOUR COLLECTION?
Rings, colourful rings!
THREE THINGS YOU CAN'T LIVE WITHOUT?
My kids, dog walks by the sea and my sketchpad.
YOUR GO-TO STYLING TRICK? 
I believe any casual outfit can be transformed with a good pair of earrings.  I am always drawn to black, so a great vibrant pair of earrings can add that perfect pop of colour.
TELL US ONE THING ABOUT YOURSELF THAT PEOPLE SHOULD KNOW THAT I DIDN'T ASK.
Interior design is still a huge inspiration and creative draw for me. Having worked under Carlton Varney, one of America's most adventurous and bold interior designers, I am always chatting all things design. From colour combinations, redecorating our home and studio and helping friends with their interior design plans.  I am all about colour!