WEARINGIRISH showcases top designers/brands from Ireland.
In this series, meet the designers and hear their stories. Here Margaret chats with Aisling Duffy.
Visit aislingduffy.co.uk for more!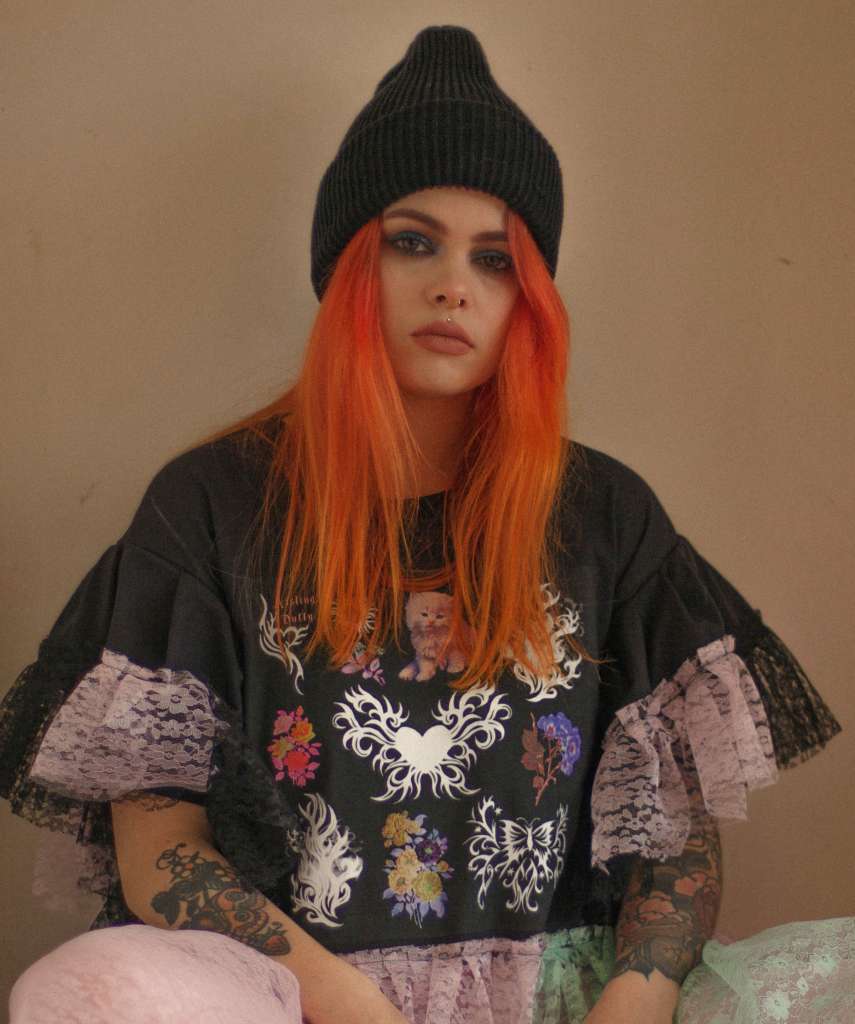 TELL US ABOUT YOUR BACKGROUND.
I grew up in Dublin. I wanted nothing more than to attend art college; the day I received my acceptance letter to the National College of Art & Design, I cried. I spent four years at Ncad where I specialized in printed textiles. After graduation, I was accepted to the Edinburgh College of Art, where I spent two years developing my design style. I graduated with a master's with distinction in textiles. I moved to London and worked as a Print Designer for a small studio. When the studio closed down, I decided to be brave and start my printed fashion label!
WHAT WAS THE MOST DEFINING MOMENT OF YOUR CAREER?
If I had to pick one moment, it would be seeing my designs on the runway at The Rose of Tralee International Festival in August 2019. I worked tirelessly within a limited time frame to produce three catwalk looks. Each look explored Irish identity through print and hand-embellishment. I felt so proud of what I have managed to achieve and incredibly thankful to be given such a huge opportunity to showcase my work.
WHAT'S YOUR AMBITION FOR YOUR BRAND?
My ambition for my brand would be to produce fully sustainable, ethical, and unique collections with instant brand recognition and to be worn by musicians on stage and seen in music videos.
HOW WOULD YOU DEFINE THE HEART AND SOUL OF YOUR BRAND?
Print, hand-embellishment, personal exploration and ethics.
WHERE DOES YOUR BRAND NAME COME FROM? 
It's my name—Aisling Duffy. Given my label and designs are so much about personal exploration, it seems natural to hold onto my name. Plus, 'Aisling' is such an Irish name, and it is fun having always to tell everyone how to pronounce it all the time!
WHO IS YOUR DREAM MUSE? WHY?
I have so many! I am mainly drawn to people's journeys, artistic talent, and drive to change the world for the better.
I would love to dress Jonathan Van Ness, Billie Eilish, or Charli XCX, but equally, I find the personal journeys of the people around me, such as my grandmothers, my mother, and my friends so inspirational.
YOUR DREAM COLLABORATION?
A pop-up or window display for Brown Thomas; stage costumes for Charli XCX, Billie Eilish, or Grimes; or a fashion collaboration with Stella McCartney (leading the way for ethical fashion), or Simone Rocha (one of my favourite designers).
WHAT INSPIRES YOU ABOUT THE WEARINGIRISH MOVEMENT?
Being an Irish designer based away from Ireland, I have found the WearingIrish movement has helped me understand that I am an Irish designer regardless of my location. This insight has given me strength and clarity when I have struggled with how to define myself.
WHO DO YOU WANT TO WEAR IRISH?
I want to think that Irish design could be worn globally. I would love to see more designers promoting themselves as Irish designers when they show at London Fashion Week.
TAKE US THROUGH YOUR CREATIVE PROCESS?
I generally begin by making collages and artwork using imagery related to the theme of the collection. I then create fabric prints using my artwork. I develop pattern cuts and styles for my fashion collection, mainly from my collection of vintage items. I hand make and hand embellish all my collections at my London studio. It is a genuinely immersive and inspiring process for me, and I hope I never lose that element from my work.
HOW DOES A SENSE OF PLACE INFORM YOUR CREATIVE PROCESS— SPECIFICALLY IRELAND?
I grew up in the suburbs of Dublin near the coast. This mixture of urban and nature has always played an influential role in the imagery I use for my collection. I love the contrast between the beauty of nature but also the beauty of urban life—graffiti, derelict buildings, windows, and reflections.
My family, their Irish accents, Irish sayings, their homes, and stories, all of which are uniquely Irish, are all part of my inspiration, and I draw from this constantly when creating new work.
WHAT DOES BEING IRISH MEAN TO YOU AND IN WHAT WAY HAS IT INFLUENCED YOUR CREATIONS? 
This question has always inspired my work. My recent collections have explored Irish identity through print and imagery. I utilize a lot of Irish symbols, native animals, and the Irish language.
Living away from home, you start to question your sense of self. But in a way, I feel even more Irish now. When I introduce myself to others, I say, "I am an Irish designer based in London," so I believe my sense of being Irish is vital to me and my work.
MOST COVETED ITEM IN YOUR COLLECTION?
The most coveted item is probably a transparent oversized vest I created in 2018. It is covered in velvet patches, sequins, vintage buttons, and reclaimed gems. It took days to create. It isn't for sale, but it is so popular that I allow it to be used in photoshoots and styling edits—as long as those using the vest guarantee to take good care of it!
THREE THINGS YOU CAN'T LIVE WITHOUT?
Vintage finds, the freedom to create, and family.
YOUR GO-TO STYLING TRICK? 
Always wear whatever you want regardless of trend. I'm rarely seen without a beanie or a load of jewellery, and I'm nearly always wearing vintage or thrifted finds. 
TELL US ONE THING ABOUT YOURSELF THAT PEOPLE SHOULD KNOW THAT I DIDN'T ASK.
I am incredibly clumsy, and I am a proud member of the left-handed club!