WEARINGIRISH showcases top designers/brands from Ireland.
In this series, meet the designers and hear their stories. Here Margaret chats with Aoife McNamara.
Visit aoifemcnamara.com for more!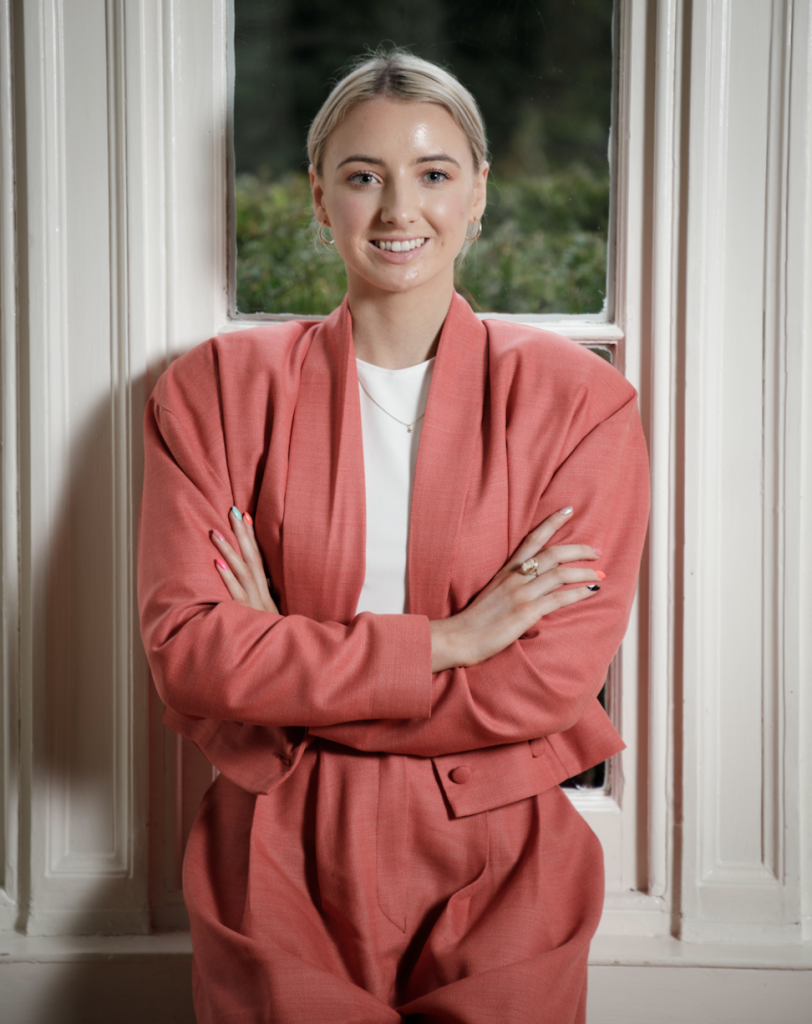 TELL US ABOUT YOUR BACKGROUND.
I am a Limerick School of Art and Design graduate and hold a BA Honors Degree in Fashion Design. My knowledge and background spans interning with Marc Jacobs, working with a Vogue stylist in Paris, supplying fashion to noted celebrities such as Vogue Williams, Roz Purcell, Suzanne Jackson, and working practically with Irish companies in uniform design and Capsule collections. I have also won Irish Country Magazine Fashion designer of the year 2019 and nominated in the top 5 for Gossies Fashion Designer of the year 2019.
WHAT WAS THE MOST DEFINING MOMENT OF YOUR CAREER?
The most defining move in my career would have to be, moving to Paris straight after college by myself with no French, no job, and a dream to pursue a career in the fashion industry. I had previously been in NYC working, but Paris was a whole other level—learning the true detail to design and how cutthroat the real fashion industry is. Working many different jobs from styling to couture—I think throwing yourself in the deep end straight after college is the best way to learn and grow as a young designer.
WHAT'S YOUR AMBITION FOR YOUR BRAND?
Becoming a 100% ethical brand is what I want AOIFE Ireland to grow into. As a young up-and-coming designer, it is vital to have a voice in what I create and how I choose to represent my line. For me, that is reducing my carbon footprint anywhere we can—keeping my production in Ireland and choosing sustainable materials. We are not perfect, but we strive to achieve a brand that is known globally for its ethical morals.
WHERE DOES YOUR BRAND NAME COME FROM? 
I wanted to keep my brand name very simple, clear and 100% Irish—choosing AOIFE Ireland just made sense.
YOUR DREAM COLLABORATION?
Copenhagen Stylist Emili Sindlev. Her style is like no other. She is 100% my muse, from her colour palette to how she styles her clothes. It would be a dream to collaborate with her on an AOIFE line.
HOW DOES A SENSE OF PLACE INFORM YOUR CREATIVE PROCESS— SPECIFICALLY IRELAND?
A lot of different aspects inspire my creative process—the main one being Ireland and its beautiful sunsets. My current SS20 collection is called 'She's A Dreamer.' I collaborated with Irish woolen mill John Hanly to create my Irish wool, which represents our beautiful skyline.
THREE THINGS YOU CAN'T LIVE WITHOUT?
My phone, Filofax and a pocket sketchbook.
TELL US ONE THING ABOUT YOURSELF THAT PEOPLE SHOULD KNOW THAT WE DIDN'T ASK.
I am obsessed with training, whether it's for a triathlon or first thing in the morning. I feel it clears my head and helps me work a lot more productive for the day.