WEARINGIRISH showcases top designers/brands from Ireland.
In this series, meet the designers and hear their stories. Here Margaret chats with Conor Holden.
Visit holdenleathergoods.com for more!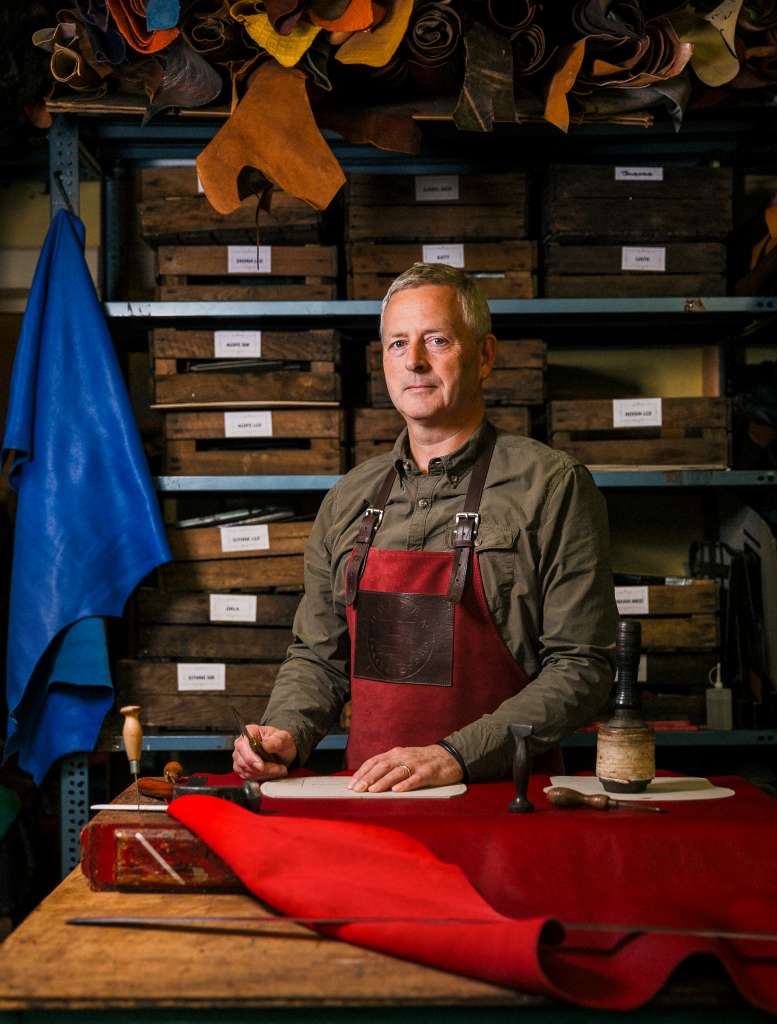 TELL US ABOUT YOUR BACKGROUND.
Born and bred in Dublin, I started my working life as a trainee hotel manager, at the age of 17. I moved to London at 19 and worked in local government. A course at Cordwainers College (now part of London College of Fashion) in Leathergoods Design and Production caught my eye: this was the beginning of my journey back home, and the beginning of Holden Leathergoods, which I set up in 1989.
WHAT WAS THE MOST DEFINING MOMENT OF YOUR CAREER?
A holiday in Dingle in 1988, which ultimately lead to setting up the workshop in this beautiful and inspiring location.
WHAT'S YOUR AMBITION FOR YOUR BRAND?
For the Holden name to be totally synonymous with quality and integrity—of design, craftmanship and sustainability.
HOW YOU WOULD DEFINE THE HEART AND SOUL OF YOUR BRAND?
We are dedicated to producing leathergoods of the highest quality you will find anywhere in the world, maintaining a commitment to sustainability and the very opposite of 'fast fashion': we are the leather equivalent of the slow food movement! We do our own thing, our way, for people who know their own minds.
WHERE DOES YOUR BRAND NAME COME FROM? 
Holden is my family name, and I get a great sense of pride when I see it on my work.
WHO IS YOUR DREAM MUSE? WHY?
I always imagine Audrey Hepburn carrying a Holden 'Isabel' bag! Her enduring elegance and style inspire our own modern classics.
WHAT INSPIRES YOU ABOUT THE WEARINGIRISH MOVEMENT?
The WearingIrish movement is a great way to encourage and support designers and makers in Ireland to reach a wider audience.
WHO DO YOU WANT TO WEAR IRISH?
There are over 35 million Americans with Irish heritage; if every one of these were to wear or carry just one piece of Irish design, imagine how much growth and security this could bring to Irish designers and makers!
TAKE US THROUGH YOUR CREATIVE PROCESS.
Most of our bag designs are collaborations between myself and my wife, Claire. We set aside some time to work through new ideas and prototype them, usually when we receive the samples of new leathers we've selected from our tanneries in Italy and are buzzing with inspiration and creativity! It's one of the aspects of my job that I most enjoy.
HOW DOES A SENSE OF PLACE INFORM YOUR CREATIVE PROCESS— SPECIFICALLY IRELAND?
The Dingle Peninsula is not only breathtakingly beautiful, it's steeped in history, and encompasses so much about being Irish: it has a spiritual draw which continues to this day to attract and inspire creativity in writers, musicians, poets, philosophers, dancers, artists and artisans.
WHAT DOES BEING IRISH MEAN TO YOU AND IN WHAT WAY HAS IT INFLUENCED YOUR CREATIONS?
Being Irish is an integral part of who I am. My heritage is very important to me: It gives me a sense of place in the world and a pride and confidence in what I do.
MOST COVETED ITEM IN YOUR COLLECTION?
The Holden 'Laptop Backpack'—even we have been surprised by its appeal, to men and women. It's the perfect excuse to treat yourself; useful and practical with all the luxury details you'd expect from a Holden: meticulously handcrafted full grain leather, with a hardwearing soft suede lining.
THREE THINGS YOU CAN'T LIVE WITHOUT?
My family above all else followed closely by coffee and chocolate!
YOUR GO-TO STYLING TRICK?
A classic Holden 'Aoife' bag looks equally amazing dressed up for an evening or dressed down with denim; choose a Holden bag you love—you'll have it for years!
TELL US ONE THING ABOUT YOURSELF THAT PEOPLE SHOULD KNOW THAT WE DIDN'T ASK.
This year is the 30th anniversary of Holden Leathergoods! I was a bearded, long-haired 25-year-old when I started all this!