WEARINGIRISH showcases top designers/brands from Ireland.
In this series, meet the designers and hear their stories. Here Margaret chats with Jennifer Kiernan.
Visit scribbleandstone.com for more!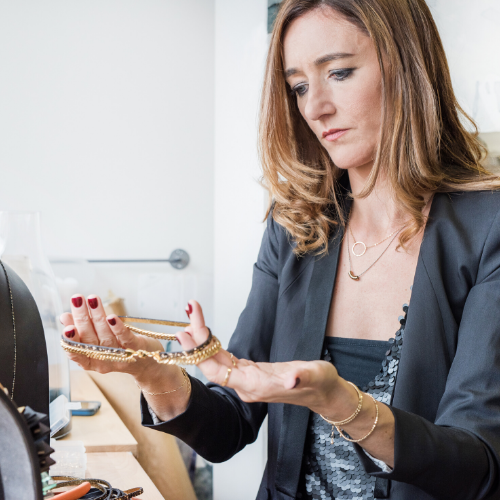 TELL US ABOUT YOUR BACKGROUND.
I grew up in the north inner city of Dublin and have since studied commerce, fashion, and textiles and have qualifications in graphics, too. In 2010, I jointly set up the collaborative retail space Design Lane in Dublin's Temple Bar. Work from over 50 local designers & makers is sold there, and I have been selling my own products under the brand Scribble & Stone since then. I now focus on developing jewellery products and have supplied probably about 40 shops over the years.
WHAT WAS THE MOST DEFINING MOMENT OF YOUR CAREER?
Probably being interested in music because I saw how amazing things started as small ideas. As a student, I knew a lot of DJs, producers, and promoters who had launched labels, club nights, or festivals on a shoestring. Edinburgh, where I went to art college, was great for that; so entrepreneurial and inclusive. For the first time, I could see how someone could be self-employed and create a job if they remained focused and committed. It gave me that entrepreneurial courage to do my own thing.
WHAT'S YOUR AMBITION FOR YOUR BRAND?
I would love to expand the business and have more time for the creative rather than the business side. I would love to outsource all production, bearing in mind sustainability and fair trade, so we could focus on design. I would like to go back to textiles too in some way, and I have plans to do some things with a fair trade initiative in Nepal this year. I have so many ideas, but trying to fit it all in with family life can be challenging!
HOW YOU WOULD DEFINE THE HEART AND SOUL OF YOUR BRAND?
Eclectic and inclusive!
WHERE DOES YOUR BRAND NAME COME FROM? 
Initially, when I started, I was drawing a lot, so "scribble" referenced my illustrations; "stone" referred to gemstones and related to the jewellery.
WHO IS YOUR DREAM MUSE? WHY?
Cate Blanchett. Not only does she embody great style, intelligence, and beauty, but she does so much good work with the UN and speaks out in support of women's rights.
YOUR DREAM COLLABORATION?
I would LOVE, LOVE, LOVE to design a collection for Marni. I adore their jewellery collections and would love to work with a big brand like that who have access to top-class production and materials so that all your imaginings could be brought to life in an exceptional, polished way.
WHAT INSPIRES YOU ABOUT THE WEARINGIRISH MOVEMENT?
The opportunity to bring our products to a broader audience and potentially to be able to develop collections with that in mind, rather than being constrained by the limitations of a slightly conservative local market.
WHO DO YOU WANT TO WEAR IRISH?
Everyone and anyone who likes the products and wants to support small-scale producers and keep retail diverse and exciting—and not just recognizable high street brands!
TAKE US THROUGH YOUR CREATIVE PROCESS.
The first part would be research and trend analysis. We tend to survey what's going on across a lot of areas, from exhibitions to films to what's happening on the catwalks. I'll also look at things I'm personally interested in, from architecture to interior design to natural landscapes. From there, we'll collect visual research and create beautiful mood-boards to use as reference points. Once you are surrounded by things like this, the rest just flows; materials and colours will suggest themselves. You get a feeling for what combinations of elements might work, and then you start to play about draping on a mannequin, or drawing elements that you could get 3D modeled. At this point, a collection will begin to evolve. From there, it's about refining the ideas and of course, costings.
HOW DOES A SENSE OF PLACE INFORM YOUR CREATIVE PROCESS— SPECIFICALLY IRELAND?
I can't get away from it to be honest. It seeps into your bones in terms of preferred colours and textures. I grew up in a crumbling 18th-century Georgian house in the north inner city so peeling paint, distressed surfaces, muted colours look normal to me. I always return to that in terms of textures and palette and when working with colour, it's always more muted, with shiny gold to brighten it. The architecture of the city always inspires, whether its grids and lines of scaffolding and building sites or stacked squares of Perspex inspired by the contemporary buildings of the Grand Canal Dock. I think the weather here and colours of the sea are endlessly inspirational and when developing things, it's never going to be tropical brights!
WHAT DOES BEING IRISH MEAN TO YOU AND IN WHAT WAY HAS IT INFLUENCED YOUR CREATIONS?
I'm not sure how to answer that. I guess it's nice to come from a place that is known for being quite friendly and welcoming. The Irish market does influence my creations as it is small, so that can limit you in terms of what will sell well. People here are so supportive of local brands though, and that's really lovely, to be honest!
MOST COVETED ITEM IN YOUR COLLECTION?
Our triple strand minimal bracelet.
THREE THINGS YOU CAN'T LIVE WITHOUT?
Family, friends, and laughter.
YOUR GO-TO STYLING TRICK?
Statement earrings—currently hoops!
TELL US ONE THING ABOUT YOURSELF THAT PEOPLE SHOULD KNOW THAT I DIDN'T ASK.
My folks are conservationists of an 18th-century building and they were hugely active in the movement to save Georgian Dublin from demolition in the '60s and '70s. Thanks to them and their peers in The Preservation Society, North Great George's Street is now one of the finest preserved and restored examples of an 18th-century street in Ireland.  Perhaps it's the memories of my Dad meticulously restoring stucco plasterwork with homemade moulds that planted the seed of my creativity!