WEARINGIRISH showcases top designers/brands from Ireland.
In this series, meet the designers and hear their stories. Here Margaret chats with Louise Elliott.
Visit fishermanoutofireland.com for more!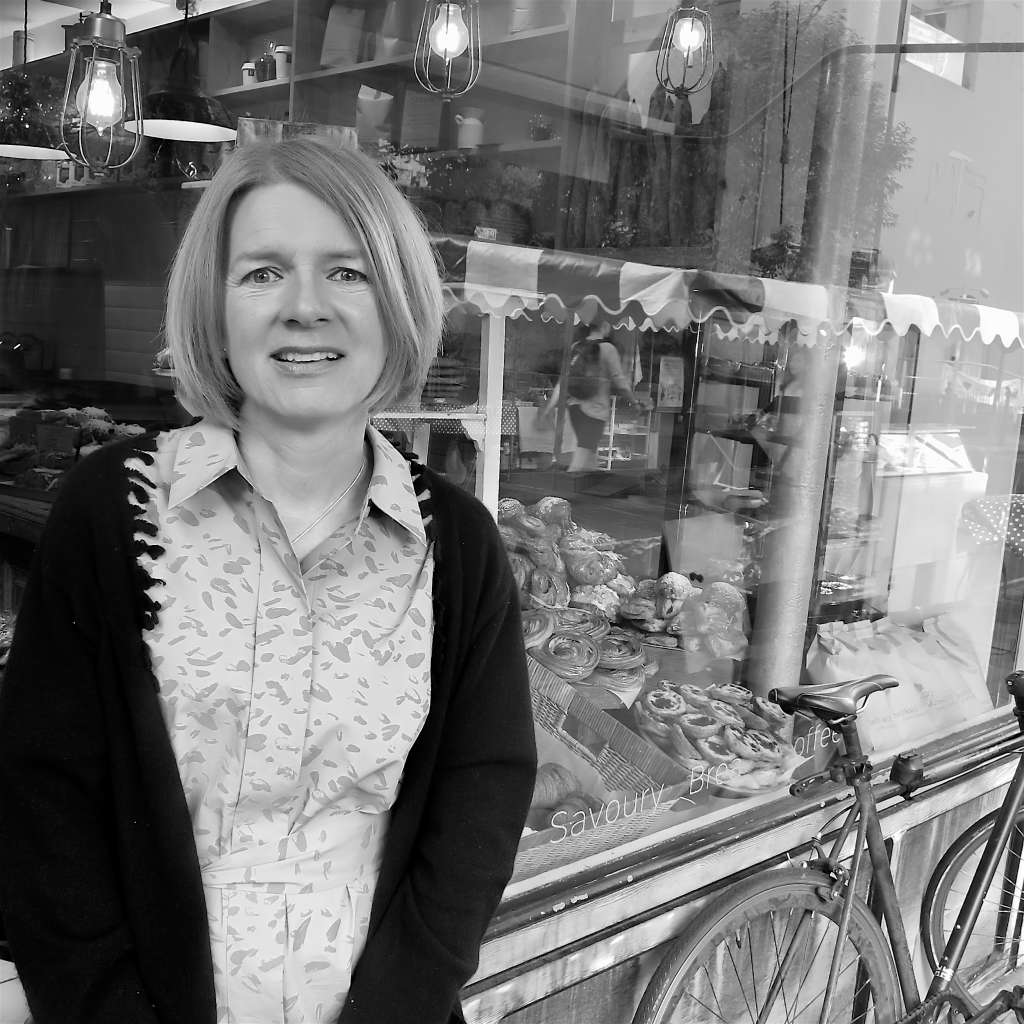 TELL US ABOUT YOUR BACKGROUND.
I studied at NCAD Dublin and graduated in 1991. That summer, I went to NYC on a J1 student work visa with my portfolio in hand. I was very fortunate within a short space of time to land a design job at DKNY. Later, I worked at Fenn Wright Manson. Then I worked with Adrienne Vittadini before returning to my native Cork in September 1997 to accept a job as a designer for Fisherman Out of Ireland, which is owned by Blarney Woollen Mills.
WHAT WAS THE MOST DEFINING MOMENT OF YOUR CAREER?
In December 2000 when Bill Clinton was in Dublin, he picked up a Fisherman sweater from the old Blarney Woollen Mills shop on Nassau St. The heading on a news story in The Irish Times the following day was "Purchase of a new jumper brings traffic to a standstill." So, you see, sometimes a good sweater can stop everyone in their tracks!
WHAT'S YOUR AMBITION FOR YOUR BRAND?
I'd like to see the Fisherman brand increase its profile at home and abroad in more of the upscale retail settings.          
HOW YOU WOULD DEFINE THE HEART AND SOUL OF YOUR BRAND?
That would have to be the dedicated, tight-knit group of skilled people that work at the factory in Kilcar, County Donegal where everything is made.
WHERE DOES YOUR BRAND NAME COME FROM? 
It comes from both our location and inspiration—the Irish coastal landscape and its fishing communities.
WHO IS YOUR DREAM MUSE? WHY?
For women, I think Bono's wife, Ali Hewson looks relatable, cool and comfortable in her own skin and I admired her Edun mission. My not shy, American husband beside me here is saying he is my male muse.
YOUR DREAM COLLABORATION?
To work with a prestigious department store such as Selfridges, Liberty London or Barneys New York.
WHAT INSPIRES YOU ABOUT THE WEARINGIRISH MOVEMENT?
WearingIrish has given much needed valuable exposure to the many talented designers creating right here in Ireland.
WHO DO YOU WANT TO WEAR IRISH?
Anyone with good taste who cares about provenance.
TAKE US THROUGH YOUR CREATIVE PROCESS.
It all starts with the yarn, which then becomes a knitted fabric and finally a garment. I work with spinning mills to create, in some cases, bespoke yarns and colours. The next step is stitch and pattern development to create the fabrics and then finally designing the knitwear shapes. Trips to Pitti Filati yarn show, London and Donegal along the way all provide the ingredients with which to make the cake that is the next collection.
HOW DOES A SENSE OF PLACE INFORM YOUR CREATIVE PROCESS— SPECIFICALLY IRELAND?
Knitwear is all about texture, colour and handle, and the beautiful, Irish coastal landscape has this in abundance. I am very blessed to be a part of creating a brand that is produced right here in Ireland as there is nowhere else I'd rather be.
WHAT DOES BEING IRISH MEAN TO YOU AND IN WHAT WAY HAS IT INFLUENCED YOUR CREATIONS?
I was born in England to Irish parents, and we moved back to County Cork as kids. As a child, my very "proud to be Irish" mother knit outfits for my dolls and Aran sweaters for Blarney Woollen Mills. She was my most significant influence and fan and was buried in a willow coffin in her favourite Fisherman cardigan.
MOST COVETED ITEM IN YOUR COLLECTION?
First introduced in 2006, our two-button, horizontal ribbed cardigan for women continues to be our absolute best seller every year.
THREE THINGS YOU CAN'T LIVE WITHOUT?
When on working trips in Donegal it's my hot water bottle, healthy packed lunches, and Seamus, our knitwear programmer, he makes it all happen.
YOUR GO-TO STYLING TRICK?
If an outfit looks good on you, it doesn't matter how many times you've worn it or how many people have seen you in it already; it looks good on you! This is what the "buy less, buy better" message ultimately entails.
TELL US ONE THING ABOUT YOURSELF THAT PEOPLE SHOULD KNOW THAT I DIDN'T ASK.
I'm not a limelight loving person, but I do enjoy seeing a Fisherman sweater pass me by on the street.