WEARINGIRISH showcases top designers/brands from Ireland.
In this series, meet the designers and hear their stories. Here Margaret chats with Shauna Keogh.
Visit 5428apparel.com for more!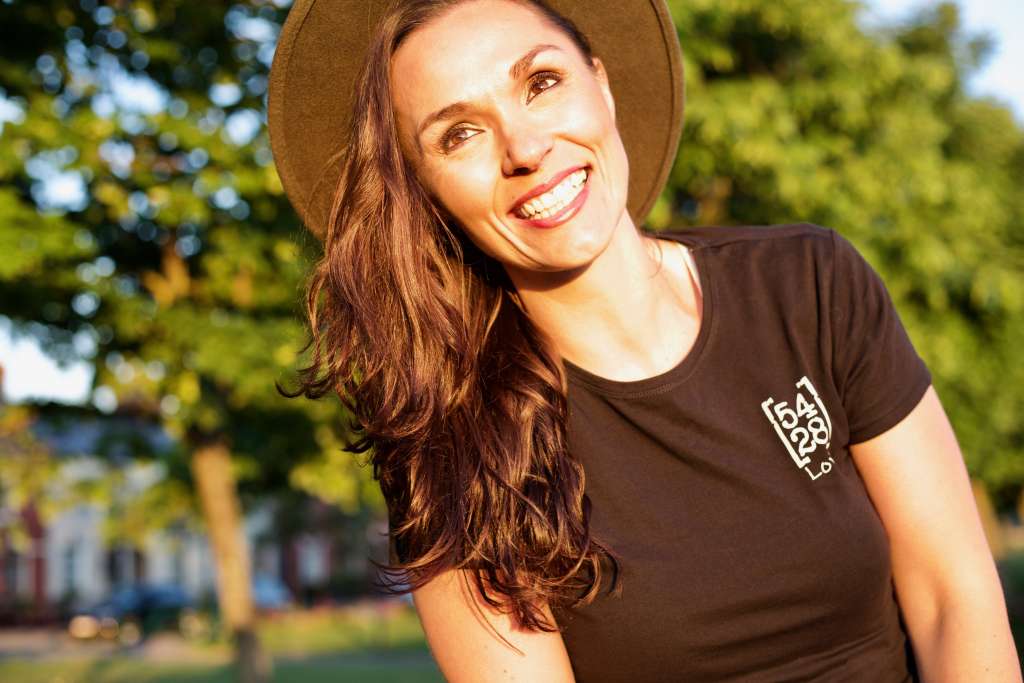 TELL US ABOUT YOUR BACKGROUND.
I was born and raised in Dublin, the youngest of three girls.  I moved to London in my early twenties, where I worked in the media industry before relocating to New York in 2009.
WHAT WAS THE MOST DEFINING MOMENT OF YOUR CAREER?
I don't have one defining moment as such, but I do have many life experiences that have brought me to where I am today. My move to the United States and being nominated for an Emmy was a great achievement. But it's the people I have met along the way and the lessons I have learned—the good and the bad—that has been my defining moments to date.  
WHAT'S YOUR AMBITION FOR YOUR BRAND?
My ambition is to have 5428 Apparel in every territory globally and to have the LGBT brand sold in stores where you can purchase the product 365 days of a year, for every occasion—birthdays, Christmas, Valentine's Day, etc.—not just when Gay Pride comes around once a year. 
HOW WOULD YOU DEFINE THE HEART AND SOUL OF YOUR BRAND?
It's all about identity and inclusion—having a line of clothing that the LGBT community can identify with and feel part of is crucial. 
YOUR DREAM COLLABORATION?
Matthew Williamson and Lady Gaga. 
WHO DO YOU WANT TO WEAR IRISH?
The objective of 5428 Apparel is to have as many nationalities and genders WearingIrish. Just like the messaging of the brand, it's all about inclusion. 
TAKE US THROUGH YOUR CREATIVE PROCESS.
Developing an idea from my head, moulding, and shaping it into the final product is what I enjoy most.  The creative part is by far, my passion; it's all about the connection you build through your work. People relate to people, and we are all emotionally connected.  The creation of my brand came from my connection with my clothing while I was still struggling with my sexuality and coming to terms with my internal homophobia.  While I was struggling to accept myself, I could relate to others in the community through my clothing; it gave me a sense of belonging and identity. I also wanted to create a line of clothing that wasn't always heavily branded with rainbows and unicorns to illustrate sexuality. The creation of the logo with the numbers 5428 was code for LGBT and having it in the enclosed bracket was how you feel connected in the community. I felt growing up, dealing with my sexuality, that I fell outside the bracket, but I turned that into a positive and wanted it as part of the logo.
HOW DOES A SENSE OF PLACE INFORM YOUR CREATIVE PROCESS— SPECIFICALLY IRELAND?
I am immensely proud of growing up in Ireland and being Irish. I have been fortunate enough to travel the world, and there is no place like home.  My country hugely inspired the creation of 5428 Apparel.  The support and acceptance from my family, friends but more importantly, the support the country showed for equality. It's hard to believe that not so long ago it was a crime to be gay in Ireland. I look at how far we have come, and to create a brand that represents being gay and being Irish is what I am immensely proud of.
WHAT DOES BEING IRISH MEAN TO YOU AND IN WHAT WAY HAS IT INFLUENCED YOUR CREATIONS?
Being Irish means so much to me; it's at the core of who I am. No matter where I have travelled in the world, I have met Irish people and the connection, and the reception has always been the same.  We shoot our content on location in Ireland to showcase our heritage and where we came from. I feel that love for one's heritage increases when you are away. Coming back always brings that sense of pride.
THREE THINGS YOU CAN'T LIVE WITHOUT?
My family, food, and being able to create.
YOUR GO-TO STYLING TRICK?
Wear whatever makes you feel good. 
TELL US ONE THING ABOUT YOURSELF THAT PEOPLE SHOULD KNOW THAT I DIDN'T ASK.
I am a massive advocate for empowerment, and I would always advise others to do what they want and be what they want to be.  Don't let anyone tell you, you can and cannot achieve something.