WEARINGIRISH showcases top designers/brands from Ireland.
In this series, meet the designers and hear their stories. Here Margaret chats with Yvonne Ross.
Visit yvonneross.com for more!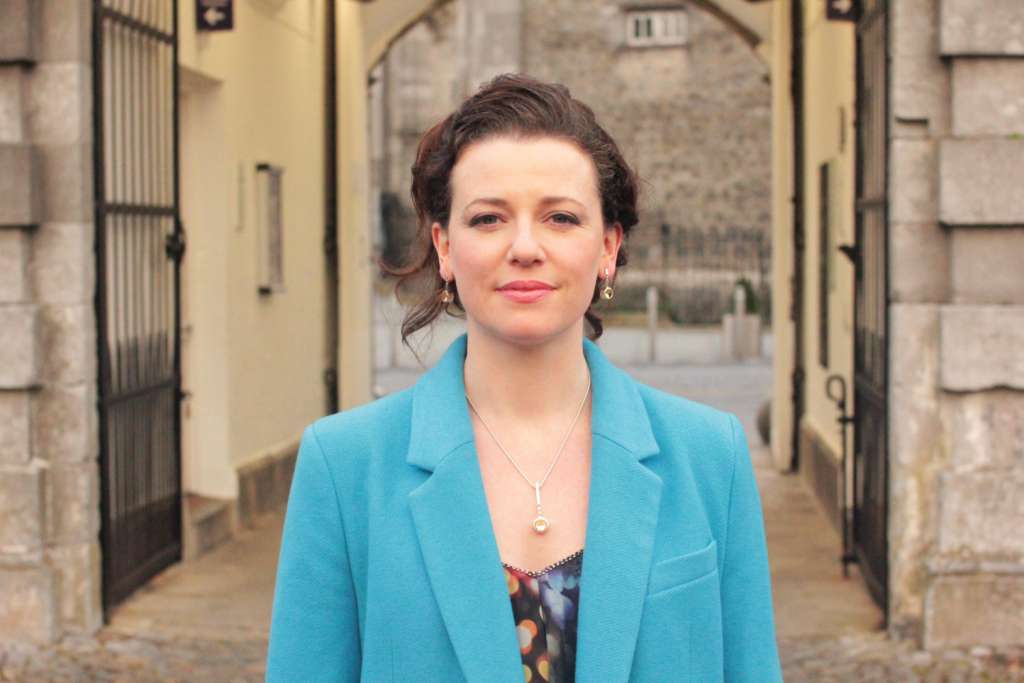 TELL US ABOUT YOUR BACKGROUND.
Initially, I studied Fine Art at Dublin Institute of Technology.  After finishing my degree, I spent some time travelling, falling in love with the rainbow array of gemstones in the markets of Bangkok.  Back home I enrolled in any jewellery short courses available and launched my first business "Yvonne Ross Designs," selling high-end beaded jewellery in The Loft Market, Dublin.  In 2009 I moved to Kilkenny to take a place on the renowned DccoI Jewellery Skills course, launching my goldsmithing business "Yvonne Ross Jewellery" in 2013.
WHAT WAS THE MOST DEFINING MOMENT OF YOUR CAREER?
That's a hard one to answer as there are so many.  If I had to choose just one, I'd have to say winning the Company of Goldsmiths of Dublin (Assay) Award in the RDS National Crafts Competition in 2012—just a year after I'd finished my training. It gave me a huge confidence boost at that critical time when I was finished studying but not quite established.  I went on to launch "Yvonne Ross Jewellery" the following year, opening my showroom/studio in Kilkenny City in 2015.
WHAT'S YOUR AMBITION FOR YOUR BRAND?
To continue to work independently of trends, focusing instead on my own evolving collection, creating balanced contemporary pieces using clean lines and quality materials.
HOW YOU WOULD DEFINE THE HEART AND SOUL OF YOUR BRAND?
Contemporary jewellery lovingly handcrafted using traditional goldsmithing skills in the heart of medieval Kilkenny city.
WHERE DOES YOUR BRAND NAME COME FROM? 
For my brand name, I kept it simple and descriptive (mostly to make it easy for people to find me).
WHO IS YOUR DREAM MUSE? WHY?
Dawn O'Porter wore a large pair of gold pearl earrings of mine to the Oscars earlier this year, which was a total muse situation.  I love her style.
YOUR DREAM COLLABORATION?
There are so many amazing designers out there but keeping it Irish, I'd like to work with Una Burke as I'm a big fan of her leather creations and I think we could make some interesting pieces together.
WHAT INSPIRES YOU ABOUT THE WEARINGIRISH MOVEMENT?
The #wearingirish movement is a great way to raise the public profile of Irish Design, but it also strengthens the design community here at home by having an online platform where we can connect.
WHO DO YOU WANT TO WEAR IRISH?
For my brand, I'd say someone with a keen eye for contemporary design and craftsmanship, but there is such an extensive range of Irish design that there is something for everyone. 
TAKE US THROUGH YOUR CREATIVE PROCESS.
The creative process varies from piece to piece.  Sometimes inspiration will come from a shape or structure, and I will begin with sketches.  Other times a spectacular gemstone will guide the design.  With a commissioned piece, we start with a design consultation (or two) followed by sketches, the choice of stones and then creating the bespoke piece.
HOW DOES A SENSE OF PLACE INFORM YOUR CREATIVE PROCESS— SPECIFICALLY IRELAND?
I'm based in Kilkenny which is often referred to as the centre of craft in Ireland and have been a member of the "MADE in Kilkenny" craft collective for a few years.  We have makers, from a wide range of traditional crafts, basket weavers, potters, glassblowers, and jewellers to name a few; we work together every year to produce a body of work for a curated exhibition.  This immersion in local, Irish craft has been invaluable to my creative process.
WHAT DOES BEING IRISH MEAN TO YOU AND IN WHAT WAY HAS IT INFLUENCED YOUR CREATIONS?
Being Irish is an intrinsic part of me and all of us here on the Emerald Isle. Having lived abroad in numerous countries, I can say that there is a particular "way" about the Irish. We are hardworking, creative, often self-deprecating, and generally quick-witted.  I think all of these characteristics influence both the way we work & the creations themselves.
MOST COVETED ITEM IN YOUR COLLECTION?
It would have to be my "Halved Halo" ring. Each ring is handcrafted and individually built around the client's choice of gemstone, forged in gold, platinum or palladium and finished off with pave set, rare white diamonds.
THREE THINGS YOU CAN'T LIVE WITHOUT?
It's family first and foremost—my daughter and fiancé (also our puppy Rosie) and of course the rest of our many siblings, parents, nieces, nephews, in-laws. Both myself and Paul are from large Irish families, so you get the picture! Of course, friends are next in line with crafting jewellery coming in a very important third place.
YOUR GO-TO STYLING TRICK?
Jewellery can finish off an outfit, but I always make sure the end result works. It's a collaboration between clothes and accessories.  A simple outfit showcases large eye-catching jewellery, but if you're wearing an outfit that's big and bold simple jewellery tends to work better.