WEARINGIRISH showcases top designers/brands from Ireland.
In this series, meet the designers and hear their stories. Here Margaret chats with Susannagh Grogan.
Visit susannaghgrogan.com for more!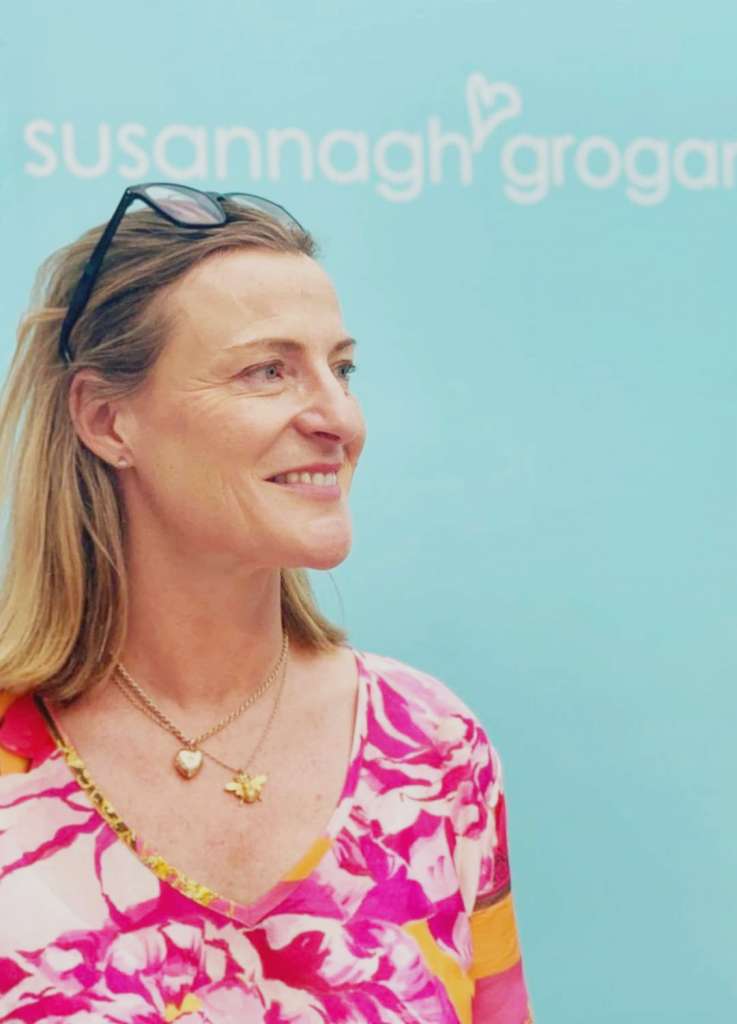 TELL US ABOUT YOUR BACKGROUND.
From Wexford, Ireland, my lifelong love of print design began at Wimbledon College of Art UAL London. I specialised in Printed Textile Design at Chelsea College of Art & Design UAL London. From there, I developed my skills working as Surface Pattern/Textile Designer and Art Director for studios and designer labels in New York, London and Cape Town.
WHAT WAS THE MOST DEFINING MOMENT OF YOUR CAREER?
The moments change and come and go but being awarded 'Accessory Designer of the Year' at The Fashion Innovation Awards and being awarded 'Best New Product Award' and 'Best Overall Creative Island Award' from The Designs Craft Council of Ireland at Showcase Ireland's premium show were all very proud moments. For St Patrick's Day at the White House, Ireland's Attorney General, Máire Whelan, gave a Susannagh Grogan scarf to Associate Justice of the U.S. Supreme Court, Ruth Bader Ginsburg. My scarves have been chosen by the US-Irish Alliance pre-Oscar party as gifts for guests that included Michelle Williams and Melissa McCarthy. Gaining commissions to design for The Royal Collection and Aerlingus gave the label a great kudos. Mrs. Higgins wore one of my scarves to the opening of BLOOM, which was a lovely surprise seeing it on the front pages of the press.
WHAT'S YOUR AMBITION FOR YOUR BRAND?
I just celebrated 10 years of Susannagh Grogan Design. In an appreciation of slow fashion, last year, I decided to design a simple range that was non-seasonal: an ongoing/permanent collection. The Empowerment collection was to launch into shops here & in the USA in March. The collection was designed as a talisman, a token of affection, a gift to others or yourself—to someone who needs to be reminded how loved, strong, brave, extraordinary or empowered they are. Each scarf has the option of the empowering word in English or Irish. The English word scarves come with a postcard with relevant, inspirational quotes and the Irish with a translation card.
HOW WOULD YOU DEFINE THE HEART AND SOUL OF YOUR BRAND?
It is born from a love of print, colour and an appreciation of excellent design. It is designed to induce a feel-good and fun factor as well as a bit of luxury. And ultimately, our customer is our #1 priority.
WHERE DOES YOUR BRAND NAME COME FROM?
It is my name; it is important to me that quality and standards are kept high and that I continue to be proud of using it.
WHO IS YOUR DREAM MUSE? WHY?
Anyone who chooses to buy from my brand, either for themselves or as a gift, is my muse. I am incredibly grateful and appreciative of every single one of our customers. I love it when I see someone wearing one of my pieces; I am so thankful.
YOUR DREAM COLLABORATION?
My background as a surface pattern/print textile designer spans 25 years, so I have a great deal of experience in collaborating and designing with and for other labels. Since launching my own label, I have had some great collaborations with Anthropologie UK & USA (one season my scarf was #1 seller in the USA), Aer Lingus and The Royal Collection/Buckingham Palace label—so more of the same, please. I was working on collaborative projects near completion, before the pandemic, so I hope that those can still come to fruition.
WHAT INSPIRES YOU ABOUT THE WEARING IRISH MOVEMENT?
Ireland has a tiny fashion industry, so any outside support that increases the profile of Irish designers abroad is most welcome, to be applauded and thanked. It is great to get support and a platform to bring our work to new customers as that is one of the main obstacles, getting in front of your customers.
WHO DO YOU WANT TO WEAR IRISH?
Anyone who appreciates good original design and gets pleasure from it. There is such a broad range of Irish design to suit any aesthetic. 
TAKE US THROUGH YOUR CREATIVE PROCESS.
I design two collections a year for my scarf range, and I have a collection of holiday tunic cover-ups. I start with sketching and hand painting, and it evolves from there. It is quite instinctive now when I design a collection. I use Photoshop to fine-tune for printing and final production in Como, Italy. I have been a print designer for nearly three decades, so I now have strong commercial knowledge, and with commissions, I would work closely together to put a client's vision into reality.
HOW DOES A SENSE OF PLACE INFORM YOUR CREATIVE PROCESS— SPECIFICALLY IRELAND?
I live beside the sea in Killiney, Dublin, and the sea air and beautiful walks locally give me the headspace and calm to be creative. I have lived in many places all over the world, and this is my favourite; it suits me.
WHAT DOES BEING IRISH MEAN TO YOU AND IN WHAT WAY HAS IT INFLUENCED YOUR CREATIONS?
 I am incredibly proud of my heritage. My first scarf collection 10 years ago had a print derived from a sea bass caught off the coast of Donegal, and the scarves had Oscar Wilde quotes printed on them. They are still in my permanent collection and one of my best-selling ranges.
MOST COVETED ITEM IN YOUR COLLECTION?
 I launched my EMPOWERMENT Collection this year, it is an ongoing permanent addition to my range in recognition of slower fashion. It has been designed as a talisman, a token of affection, a gift to others or yourself—to someone who needs to be reminded how loved, strong, brave, extraordinary or empowered they are. There are five different prints with ten words, and each scarf has the option of an empowering word in English or Irish. They are very personal to me and getting such a positive reaction with press and sales.
THREE THINGS YOU CAN'T LIVE WITHOUT?
My dog, Messi a miniature wirehaired dachshund who keeps me company on my long coastal and mountain walks. My family. And my network of friends scattered around the world.
YOUR GO-TO STYLING TRICK?
Don't be too precious with a silk scarf. Often they look better slightly thrown on.
TELL US ONE THING ABOUT YOURSELF THAT PEOPLE SHOULD KNOW THAT I DIDN'T ASK.
I am a competitive sea rower with Dalkey Rowing Club, rowing traditional wooden skiff boats. Last year, I rowed across the Irish Sea to the Welsh coast as part of an all-female crew of 12, which took us 19 hours 27 minutes.