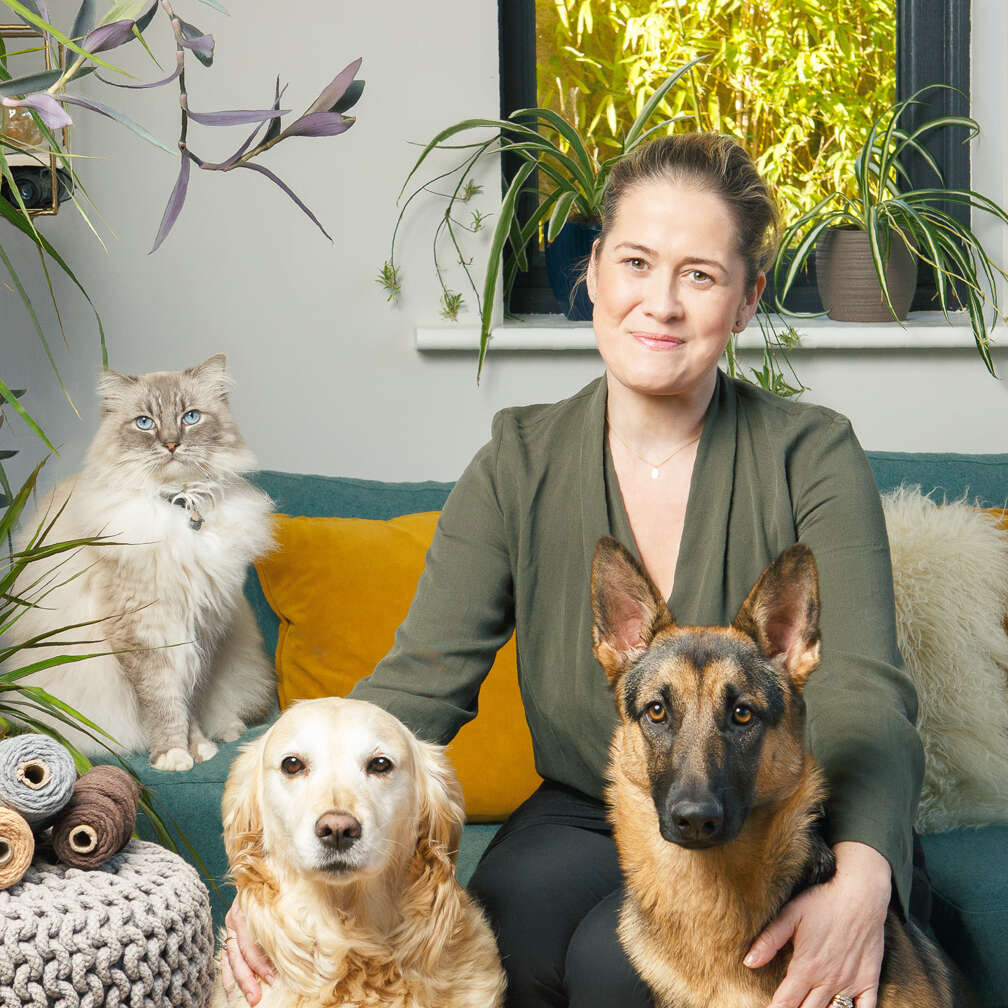 TELL US ABOUT YOUR BACKGROUND.
I have a Bachelor of Arts degree in interior architecture and furniture design from the Dublin Institute of Technology and a diploma in fine art textiles/print. I continued to study fashion at the Grafton Academy. I completed a master's in education and a diploma in business along the way and spent years working in project management. I felt it was time to hone my skills to curate and bring to fruition my circular fashion brand AOIFE®.
WHAT WAS THE MOST DEFINING MOMENT OF YOUR CAREER?
We represented our brand AOIFE® at a circular fashion event alongside National Geographic, with various biochemists who were just as passionate about circular fashion and sustainability. Other defining moments include being chosen in Create '21, stocked in Brown Thomas Dublin and the recent selection for VOGUE UK's accessory gallery.
WHAT'S YOUR AMBITION FOR YOUR BRAND?
We have continued plans to grow and expand our sustainable luxury lifestyle brand nationally and internationally; this has always been the intention since making solid preparations in 2017 when we registered our brand globally.
HOW YOU WOULD DEFINE THE HEART AND SOUL OF YOUR BRAND?
Together with our customers, we champion a new consciousness and eco-friendly culture in contemporary circular fashion.
WHERE DOES YOUR BRAND NAME COME FROM?
Our name (pronounced EE-fa) is Irish for "beauty." Like the circular beauty found in nature, AOIFE® is an Irish brand that is innovatively circular in its design principles, demonstrating how brands can be innovative, modern and fully sustainable while maintaining high-standard, quality products.
WHAT INSPIRES YOU ABOUT THE WEARING IRISH MOVEMENT?
There is such a unique, creative talent in Ireland. The WearingIrish movement is a beautiful celebration and appreciation of this talent and a great support network for Irish designers. Margaret is excellent at creating awareness about Irish design.
WHO DO YOU WANT TO WEAR IRISH?
Anyone who adorns our products stands for so much more than a fashion statement. Our tribe wants to see a positive change in fashion now, and we are supporting this shift in mindset towards sustainable circular fashion. Our gender-neutral products support ecological and social initiatives; we help restore natural resources while producing functional quality products for people to enjoy. And for every product we sell, we plant a tree in Ireland and donate to ocean cleanup; my mission is deeply rooted in a vision I hope for the future.
TAKE US THROUGH YOUR CREATIVE PROCESS.
Our products are handcrafted from regenerated, reclaimed and bio-based materials. Every aspect of production is carefully planned to establish a circular model. I aim to use what we already have as resources to create rather than using virgin materials in the production process. After the designs and technical packs are developed, an accessory sample is made from cork to test the product's function before moving to the following creative process. We help transform fabrics destined for landfills into new textiles; we buy yarn created from ghost fishing nets and we custom make our fabrics before the bags are created in Italy.
HOW DOES A SENSE OF PLACE INFORM YOUR CREATIVE PROCESS— SPECIFICALLY IRELAND?
Ireland has and always will inspire my creative process. Our entire brand and its original color palette were made from natural resources and dyes derived from Irish vegetation found in the environment and an organic, delicate fine art printing process. Literally, from the roots up, I wanted our customers to pick up an AOIFE® product and know it is an Irish product simply by looking at the authentic color palette. I knew the roots of this color palette and development process would allow me to speak about our Irish heritage.
WHAT DOES BEING IRISH MEAN TO YOU AND IN WHAT WAY HAS IT INFLUENCED YOUR CREATIONS?
"Níl a tinteán mar do thinteán féin, mar a déarfá!" (There is no place like home!). Sounds like something out of The Wizard of Oz! But I think they must have borrowed the most famous Irish proverb! I speak Irish, breathe the culture, the craic, love the chancers and absolutely adore the people. There is no doubt being Irish has influenced my creations; looking at my Instagram grid lately all I could see was the tricolor!
MOST COVETED ITEM IN YOUR COLLECTION?
Without a doubt, it must be our convertible Gallery Totes—a versatile, lightweight statement piece that features multiple pockets and compartments. Each bag is designed with the care and attention that is associated with our brand. The luxury tote to backpack has been crafted with your lifestyle and posture in mind and features extendable straps, compartments for your phone, laptop, accessories and keys. We realize that design needs to be more than just a fashion statement. We have put great thought into creating an optimized bag to protect and enhance your posture. The backpack distributes weight evenly and offers multiple carrying options such as extendable and detachable straps. Our design allows you to switch styles easily whilst always ensuring support and comfort, navigating from day to night seamlessly in comfort.

THREE THINGS YOU CAN'T LIVE WITHOUT?
Love, laughter and good health. (And a glass of Tuscan vino!)
YOUR GO-TO STYLING TRICK?
A quality jacket, shoes and of course, a multi-functional stylish, sustainable bag!
TELL US ONE THING ABOUT YOURSELF THAT PEOPLE SHOULD KNOW THAT I DIDN'T ASK.
I believe you can be many things in life. I am a qualified teacher and an avid life-long learner. There is a saying by Ralph Waldo Emerson that I love and resonates in how I would strive to live my life: "To leave the world a bit better, whether by a healthy child, a garden patch, or a redeemed social condition; to know that even one life has breathed easier because you have lived—that is to have succeeded."