WEARINGIRISH showcases top designers/brands from Ireland.
In this series, meet the designers and hear their stories. Here Margaret chats with Niamh Gillespie of Tidings.
Visit tidings.ie for more!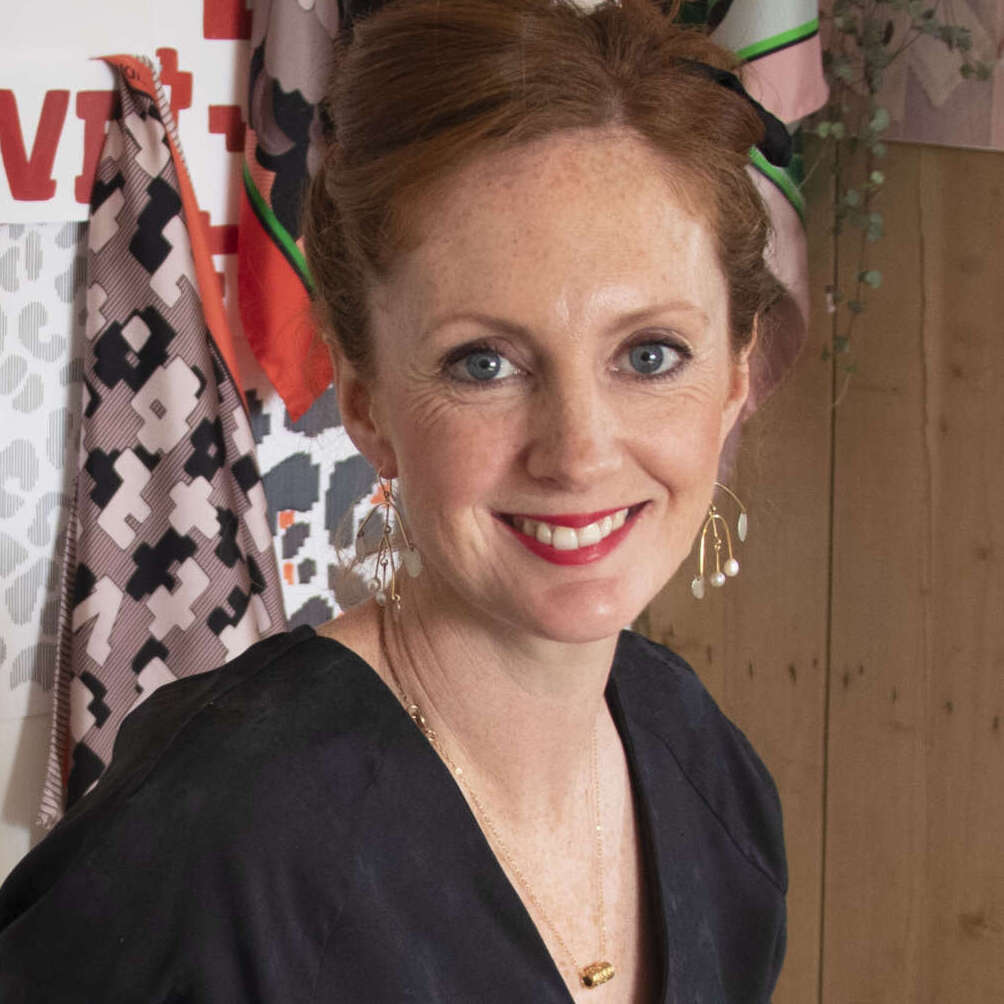 TELL US ABOUT YOUR BACKGROUND.
I graduated from The National College of Art and Design in 2002 with a degree in printed textiles. I spent time gaining invaluable experience in London: four years working alongside Paul Smith, designing prints across three womenswear labels; designing prints for Alexander Mc Queen, Conran, Liberty's of London, House of Hackney and Topshop, among others. I also enjoyed some collaborations with Gordons Gin and Waterstones. Family and life brought me back to Ireland five years ago, where I launched my label Tidings in September 2020; it's been a whirlwind since then!
WHAT WAS THE MOST DEFINING MOMENT OF YOUR CAREER?
Having the opportunity to launch Tidings in Brown Thomas for Create 2021 has, without a doubt, been the most defining moment of my career so far.
WHAT'S YOUR AMBITION FOR YOUR BRAND?
To create standout, feel-good, authentic pieces which are also timeless.
WHERE DOES YOUR BRAND NAME COME FROM?
Whilst out walking along my local beach, I came across a beautiful old message in a bottle that sparked the idea for Tidings. Tidings can mean "message," and I love that it also incorporates the tidal element, linking my brand and all that inspires it to the sea. All Tidings products convey uplifting messages, whether of hope, fun or positivity.
YOUR DREAM COLLABORATION?
At the moment, I have some very exciting projects happening with luxury Irish brands in other industries. I love collaborating and sharing skills to create something unique. I genuinely believe in the power of sharing ideas and skills, and this process always seems to spark new ideas and build even stronger creative results. ​
WHAT INSPIRES YOU ABOUT THE WEARING IRISH MOVEMENT?
WearingIrish is such a wonderful platform to showcase Irish design. I feel particularly excited to see design work developed during lockdown in 2020. I feel sure that despite the challenges, a vast amount of existing work is emerging. Silver Linings and all!
WHO DO YOU WANT TO WEAR IRISH?
I would love to see Tidings worn by people who use their profile and platform to reinforce the mission of the pieces I create: positivity, strength, friendship, kindness, hope. Perhaps I'll see Kamala Harris, Elton John, Sarah Jessica Parker or Jill Biden wearing a Tidings piece. But whether the wearer has a public profile or not, it is always gratifying to know that my design work is valued and that Tidings designs are worn with pride. Of course, I have a few dream Tidings pinups I'd love to see showcasing the collection, but every wearer and customer is hugely important to me.
HOW DOES A SENSE OF PLACE INFORM YOUR CREATIVE PROCESS— SPECIFICALLY IRELAND?
For me, making the move home to Ireland was a catalyst for all the creativity that now embodies Tidings. Living beside the sea where I walk or run or wild swim most days is a constant source of inspiration and keeps me grounded in the beauty and scenery of Ireland. The colors and shapes, the natural beauty of home inform my designs, my collections, and the impact of being in Ireland underlines the positive messages that each piece of the brand conveys. I often think of something Paul Smith said while I was working with him: "You can find inspiration in everything. And if you can't? Look again." I love this and find truth in it each time I walk out my front door.
WHAT DOES BEING IRISH MEAN TO YOU AND IN WHAT WAY HAS IT INFLUENCED YOUR CREATIONS?
I am, first and foremost, Irish. No matter where I've lived and worked and what inspiration and motivations I've gained along the way, Ireland is my home, and the history and natural beauty of the country will always influence my work. The community around the creative arts in Ireland is hugely welcoming. And there is so much to draw from–the beaches to farmland, green grass to city. Ireland's massive amount of creative talent only confirms that. I've appreciated building up a network of fellow designers whose feedback and support have helped me launch and grow Tidings this past year.
MOST COVETED ITEM IN YOUR COLLECTION?
One of my favorites and favorite with Tidings customers is my "Bloom with Grace" scarf. This stylized linear hand-painted floral print has been a best-seller and has been featured in Vogue, GQ, Grazia, Image, Social and Personal and The Irish Examiner.
THREE THINGS YOU CAN'T LIVE WITHOUT?
Apart from my husband and two daughters, a cup of tea, red lipstick and of course a Tidings Silk Scarf.
YOUR GO-TO STYLING TRICK?
I wear dresses most days and love to style them up with heels or dress them down with trainers. I also wear a lot of black, which works perfectly with my Tidings collection, injecting some color into every outfit.
TELL US ONE THING ABOUT YOURSELF THAT PEOPLE SHOULD KNOW THAT I DIDN'T ASK.
I also run another homeware Interior brand, "Niamh Gillespie Design." I recently launched an "Abstract Faces" collection, which has been very popular. The collection is a mix of contemporary art prints using monochromatic tones with pops of fluorescent color. Abstract forms and typographic styles are the main inspiration.