WEARINGIRISH showcases top designers/brands from Ireland.
In this series, meet the designers and hear their stories. Here Margaret chats with Meritta and Bridget Geoghegan.
Visit misetusa.ie for more!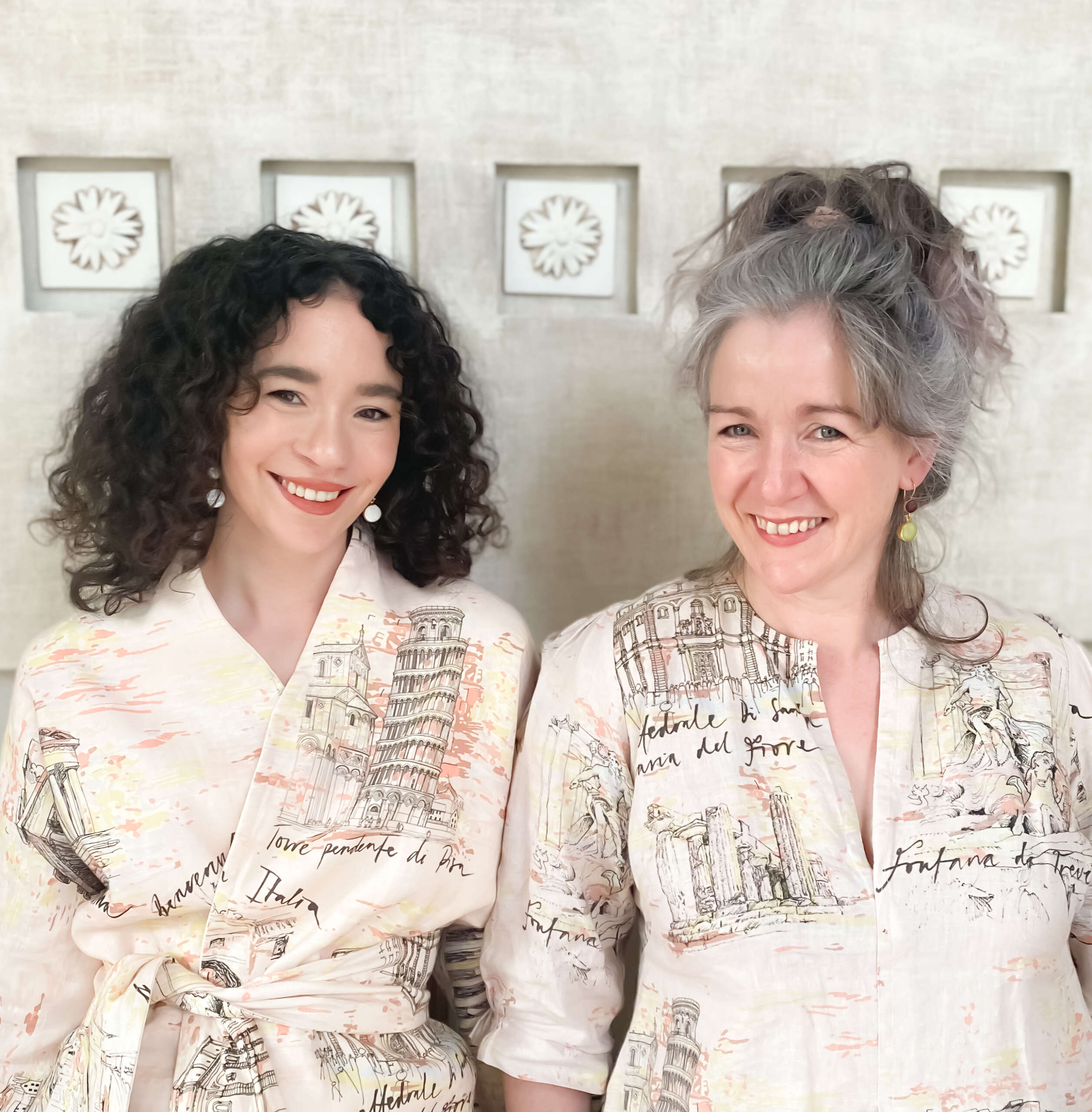 TELL US ABOUT YOUR BACKGROUND.
Meritta: I designed and hand-sewed my first suit when I was nine years old. My grandmother was a dressmaker, and I had to prove myself before I was allowed to use the sewing machine. I've been designing and creating ever since.
WHAT WAS THE MOST DEFINING MOMENT OF YOUR CAREER?
Meritta: Starting my label and opening my first shop in 1996, after returning from London, where I worked for several design houses as a pattern cutter.

WHAT'S YOUR AMBITION FOR YOUR BRAND?
To create standout, feel-good, authentic pieces which are also timeless.
WHERE DOES YOUR BRAND NAME COME FROM?
Meritta: Mise is the Irish word for 'me' and tusa means 'you.' The name represents connection and the new chapter of being business partners with my daughter Bridget.
YOUR DREAM MUSE? WHY?
Meritta: Having designed for diverse and fabulous women over the years, I no longer have just one muse but rather am inspired by all the women who wish to express their individuality. ​
WHAT INSPIRES YOU ABOUT THE WEARINGIRISH MOVEMENT?
Bridget: The WearingIrish movement has been incredibly inspirational as it has provided a platform and community to showcase the wealth of Irish talent on the international stage.
WHO DO YOU WANT TO WEAR IRISH?
Bridget: We are both huge fans of Jane Fonda. She is a true icon who uses her platform to fight for climate justice, something that is really important to us, so seeing Jane Fonda wearing Irish would be incredible!
HOW DOES A SENSE OF PLACE INFORM YOUR CREATIVE PROCESS— SPECIFICALLY IRELAND?
Meritta: I feel very grateful to be based on the Wild Atlantic Way in Ireland; it inspires all aspects of my work. This season, the Mise Tusa 'Imagine' collection embodies warm earthy tones inspired by our rolling fields and woodlands, tranquil blue hues reminiscent of our magical wild Atlantic way and a delicate infusion of floral prints inspired by Ireland's unique flora and fauna.
WHAT DOES BEING IRISH MEAN TO YOU AND IN WHAT WAY HAS IT INFLUENCED YOUR CREATIONS?
Bridget: For me, I associate being Irish with a strong sense of community, warmth, creativity and values that influence all aspects of our business—from creating a community of like-minded women to collaborating with other Irish creatives.
MOST COVETED ITEM IN YOUR COLLECTION?
Bridget: I'd have to say our 'Draíocht' (Irish for 'magic') coat. It truly is an exceptional, innovative and uniquely Irish design. Imagined by Meritta one late night at the studio, this coat is the ultimate shapeshifter, as it can be styled in several ways (even upside down!). Each coat is individually created using Irish tweed and is unique in its shade variation. You can watch a video of me styling the coat here.